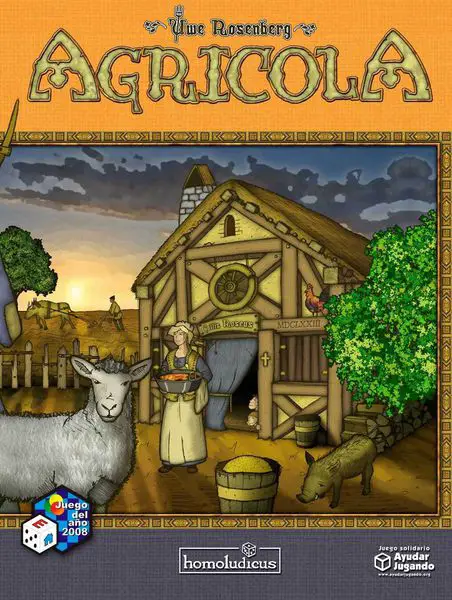 Agricola Game Features
Players: 1 – 5 players Duration: 30 – 150 mins Min. Age:12+ Game complexity MEDIUM Genre: Animals,Economic,Farming Solo game mode: Yes Co-op: No Online Version: Yes
What is Agricola about?
Agricola is a solo or up to 5 player game where players are farmers in a wooden shack with their spouse and little else. Players need to build their farmstead by sowing fields and raising livestock. This game supports many levels of complexity and is a turn-based game. There are 14 game rounds occurring in 6 stages, with a Harvest at the end of each stage. On a turn, players get to take only two actions, one for themselves and one for their spouse, from all the possibilities found on a farm such as collecting clay, wood, or stone; building fences and more. However, each action can only be taken by one player each round, requiring players to choose in order of preference.
Players can choose to have more work accomplished by having kids and use one of their 7 Occupation cards. Players win by scoring more points than their opponent, done so by strategic thinking.
---
Where can I Play Agricola Online
Agricola Awards
2012 MinD-Spielepreis Nominee
2011 MinD-Spielepreis Nominee
2010 MinD-Spielepreis Nominee
2009 Nederlandse Spellenprijs Winner
2009 Nederlandse Spellenprijs Nominee
2009 Lys Passioné Winner
2009 Lys Passioné Finalist
2009 Ludoteca Ideale Official Selection Winner
2009 Lucca Games Best Game Mechanics Winner
2009 Juego del Año Tico Nominee
2009 Japan Boardgame Prize Voters' Selection Nominee
2009 Gra Roku Player's Award
2009 Gra Roku Game of the Year Winner
2009 As d'Or – Jeu de l'Année Prix Spécial du Jury Winner
2009 As d'Or – Jeu de l'Année Nominee
2008 Tric Trac Nominee
2008 Tric Trac d'Or
2008 Spiel des Jahres "Complex Game" Winner
2008 Spiel der Spiele Hit für Experten Recommended
2008 JUG Game of the Year Winner
2008 Juego del Año Winner
2008 Juego del Año Finalist
2008 Jogo do Ano Winner
2008 Jogo do Ano Nominee
2008 Japan Boardgame Prize Voters' Selection Nominee
2008 International Gamers Awards – General Strategy; Multi-player
2008 Hra roku Winner
2008 Hra roku Nominee
2008 Golden Geek Board Game of the Year Winner
2008 Golden Geek Best Gamer's Board Game Winner
2008 Golden Geek Best Gamer's Board Game Nominee
2008 Golden Geek Best Family Board Game Nominee
2008 Golden Geek Best Board Game Artwork/Presentation Nominee
2008 Golden Geek Best 2-Player Board Game Nominee
2008 Deutscher Spiele Preis Best Family/Adult Game Winner
2007 Meeples' Choice Award