Architects of the West Kingdom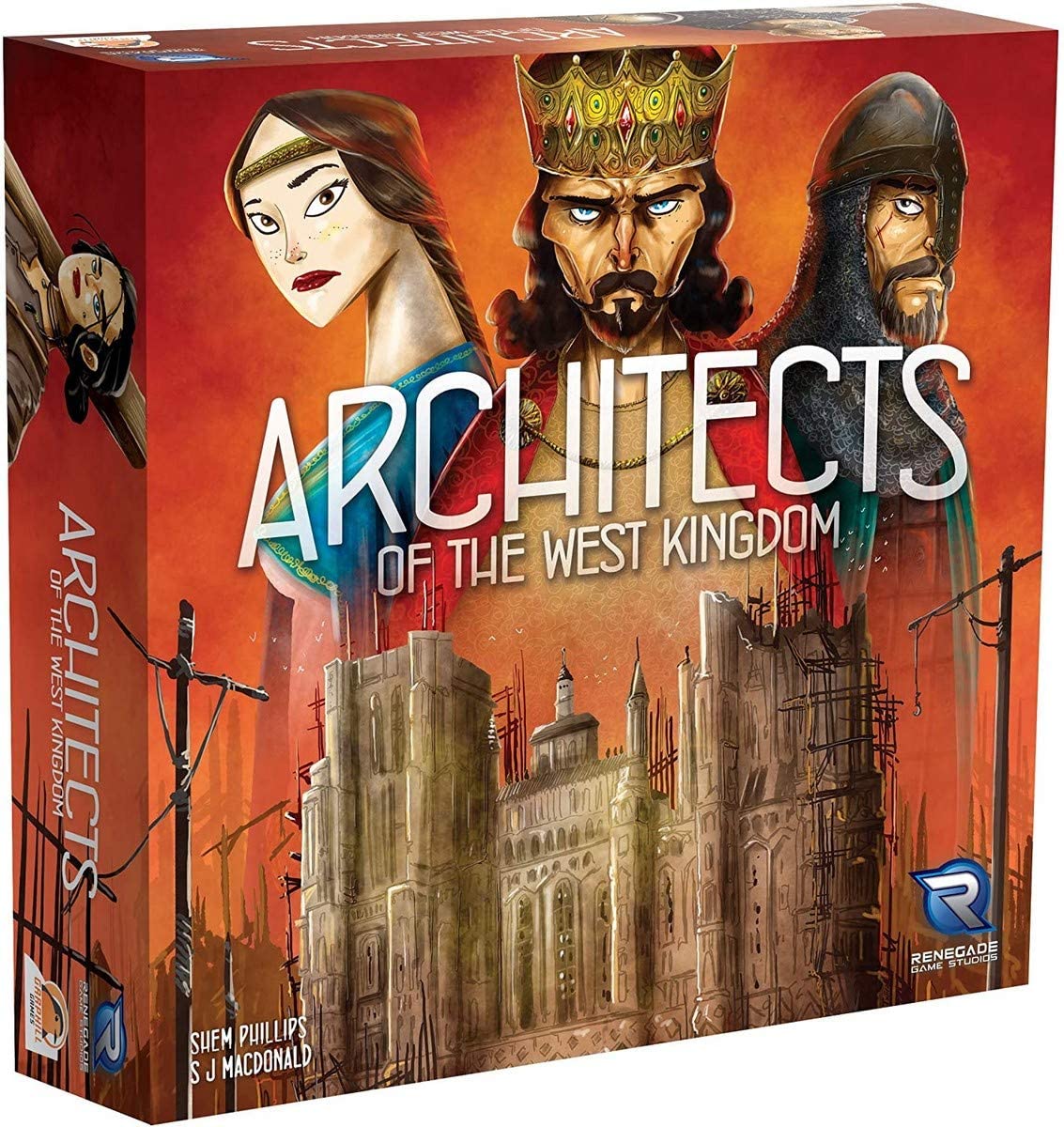 Architects of the West Kingdom Game Features
Players: 1 – 5 players Duration: 60 – 80 mins Min. Age:12+ Game complexity MEDIUM Genre: City Building,Medieval Solo game mode: Yes Co-op: No Online Version: No
What is Architects of the West Kingdom about?
Architects of the West Kingdom is a solo or up to 5 player, city-building game set at the end of the Carolingian Empire, circa 850 AD. Players are royal architects, competing to impress their king and their noble status, done so by constructing various landmarks throughout their newly appointed domain.
Each player has 20 workers where each turn they will place only 1 of them onto the Main Board. Throughout the game, players can recruit locals to capture groups of opponent's workers at the Town Centre to later throw them into jail. However, an opponent can later visit the Guardhouse to release them at no cost. This is the primary way of returning workers in a game. Players can also have their positions on the Virtue Track altered throughout the game, with a lot of Virtue awarding Victory Points and low Virtue costing them at the end of the game.
Throughout each turn, players place workers and construct landmarks. This is done so until a set number of constructions have been completed. Once this happens, every player takes 1 more turn before the game concludes.
A player wins the game by obtaining the most Victory Points, done so by constructing various buildings and advancing work on the Cathedral as well as making many moral decisions throughout the game.
---
Architects of the West Kingdom Awards
2020 Nederlandse Spellenprijs Best Expert Game Winner
2020 Nederlandse Spellenprijs Best Expert Game Nominee
2020 Gouden Ludo Best Expert Game Winner
2020 Gouden Ludo Best Expert Game Nominee
2019 UK Games Expo Best Board Game (European Style) Judges Award Winner
2019 Mensa Select Winner
2019 Kennerspiel des Jahres Recommended
2019 International Gamers Award – General Strategy: Multi-player Nominee
2019 Dragon Awards Best Science Fiction or Fantasy Board Game Nominee
2018 Swiss Gamers Award Nominee
2018 Meeples' Choice Nominee
2018 Golden Geek Most Innovative Board Game Nominee
2018 Golden Geek Board Game of the Year Nominee
2018 Golden Geek Best Strategy Board Game Nominee
2018 Golden Geek Best Solo Board Game Nominee
2018 Golden Geek Best Board Game Artwork & Presentation Nominee
2018 Cardboard Republic Architect Laurel Nominee
2018 Board Game Quest Awards Game of the Year Nominee
2018 Board Game Quest Awards Best Strategy/Euro Game Winner
2018 Board Game Quest Awards Best Strategy/Euro Game Nominee