Sherlock Holmes Consulting Detective: The Thames Murder and Other Cases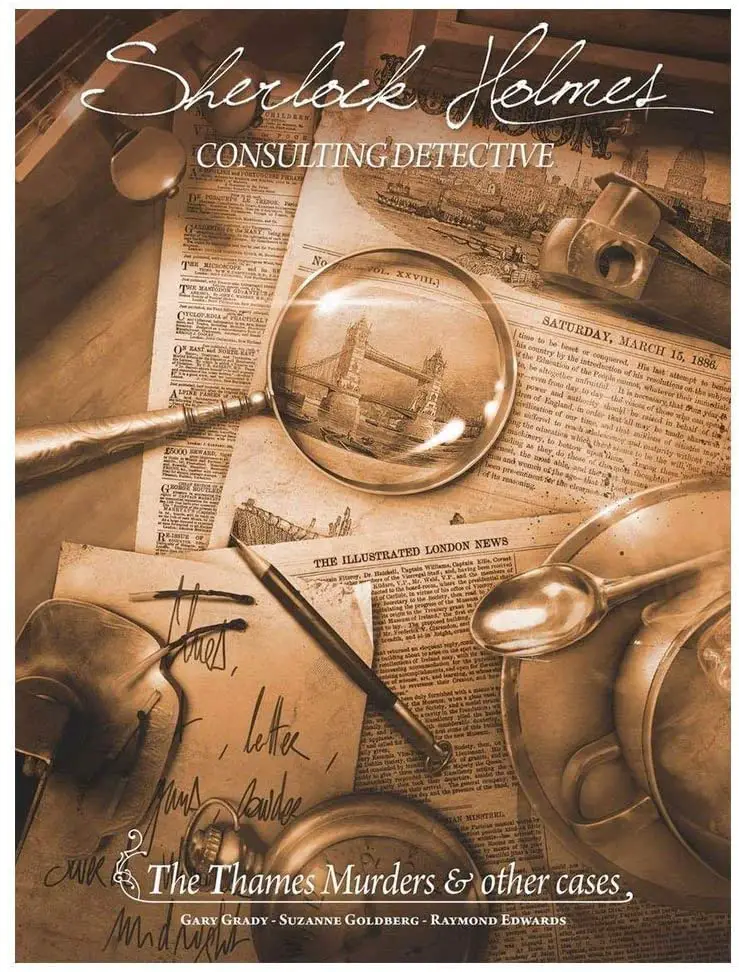 Sherlock Holmes Consulting Detective: The Thames Murder and Other Cases Game Features
Players: 1 – 8 players Duration: 60 – 120 mins Min. Age:13+ Game complexity MEDIUM Genre: Deduction,Murder/Mystery,Novel-based,Post-Napoleonic,Spies/Secret Agents Solo game mode: Yes Co-op: Yes Online Version: No
What is Sherlock Holmes Consulting Detective: The Thames Murder and Other Cases about?
Would you like to walk through Victorian London with Sherlock Holmes in search of Professor Moriarty?
Search the docks for the giant Sumatran rat? Walking up Baker Street as the fog rolls in, and hearing Holmes shout, "Watson, Watson! The game is on!"?
This is it! You can enter the opium den beneath the Bar of Gold, but watch out, Colonel Sebastian Moran may be lurking around the corner. Enjoy the mystery and excitement of Holmes' London in this challenging and informative game. Your deductive skills will be tested against your opponents and against Sherlock Holmes himself.
A mystery is presented to you, and it is up to you to trace the threads of evidence through the byways and mansions of nineteenth century London. To solve the crime, you'll interview suspects, search newspaper articles, and assemble data. How did two lions in Hyde Park die? Where are the National Gallery paintings? Who murdered Oswald Mason? Here are a few cases that will test your deductive abilities and ingenuity. No dice, no luck, but a test of your mind. To capture the feel of a bygone era, Holmesian and Victorian accuracy have been thoroughly researched.
---
How to Play Sherlock Holmes Consulting Detective: The Thames Murder and Other Cases Videos and Reviews
Sherlock Holmes Consulting Detective: The Thames Murder and Other Cases Awards
2012 Tric Trac Nominee
2012 Lys Passioné Finalist
2012 As d'Or – Jeu de l'Année Prix du Jury Winner
1985 Spiel des Jahres Winner
1982 Charles S. Roberts Best Fantasy Board Game Winner
1982 Charles S. Roberts Best Fantasy Board Game Nominee