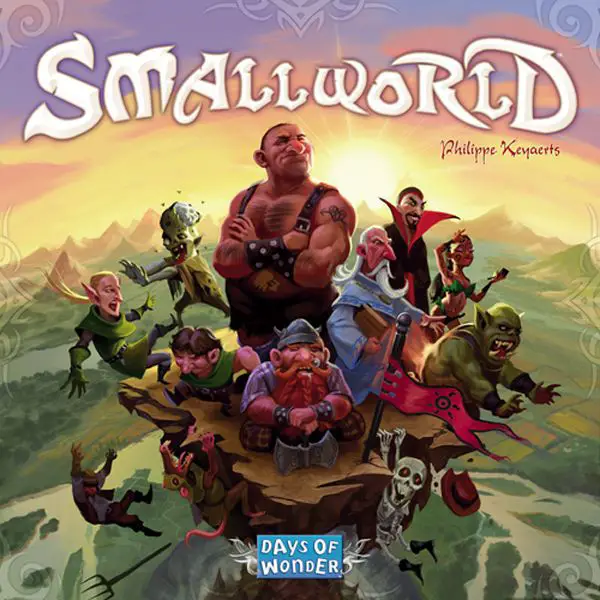 Small World Game Features
Players: 2 – 5 players Duration: 40 – 80 mins Min. Age:8+ Game complexity LOW Genre: Fantasy,Fighting,Territory Building Solo game mode: No Co-op: No Online Version: Yes
What is Small World about?
There is not enough space in Small World. There too many races living off the land.
In Small World, you will:
pick a fantasy Race and Special Power combination,
use Race's unique traits and skills to place troops in various regions and conquer adjacent lands
occupy Regions and earn Victory Coins
Eventually, your race will become increasingly over-extended (like those you have already crushed!) and you will need to abandon your race and look for another.
Your victory will depend on you knowing when to push your race into decline and look for a new one to conquer the land of Small World!
---
Where can I Play Small World Online
Small World Awards
2013 Gra Roku Game of the Year Winner
2013 Gra Roku Game of the Year Nominee
2011 Ludoteca Ideale Official Selection Winner
2010 JoTa Best Wargame Nominee
2010 JoTa Best Wargame Critic Award
2010 JoTa Best Wargame Audience Award
2010 JoTa Best Family Board Game Nominee
2010 JoTa Best Family Board Game Critic Award
2010 JoTa Best Family Board Game Audience Award
2010 JoTa Best Artwork Nominee
2010 Guldbrikken Special Jury Prize
2010 Gouden Ludo Nominee
2010 Golden Geek Best Wargame Nominee
2010 Golden Geek Best Strategy Board Game Nominee
2010 Golden Geek Best Family Board Game Nominee
2010 Golden Geek Best Board Game Artwork/Presentation Nominee
2010 Games Magazine Game of the Year Winner
2010 Boardgames Australia Awards Best International Game Nominee
2010 As d'Or – Jeu de l'Année Prix du Jury Winner
2010 As d'Or – Jeu de l'Année Nominee
2009 Tric Trac Nominee
2009 Tric Trac d'Or
2009 Spiel der Spiele Hit für Experten Recommended
2009 Meeples' Choice Award
2009 Japan Boardgame Prize Voters' Selection Nominee
2009 International Gamers Awards – General Strategy; Multi-player Nominee
2009 Golden Geek Best Wargame Nominee
2009 Golden Geek Best Gamers' Board Game Nominee
2009 Golden Geek Best Family Board Game Nominee
2009 Golden Geek Best Board Game Artwork/Presentation Nominee