Is Verrago: The Fantasy Globe Game fun to play?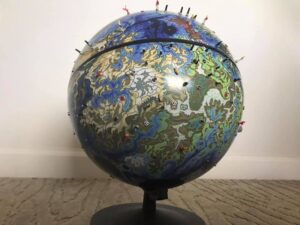 Players: 1 – 10 players | Game Duration 120 – 180 mins | Min. Age 12+ | Game complexity:
Genre: Civilization, Exploration, Fantasy, Science
Solo game mode: Yes | Co-op: No | Online Version: No
What is Verrago: The Fantasy Globe Game about?
A Hybrid Fantasy Civilization RPG that plays 1-10 players. This game bridges the legacy board games with Table Top Role Playing Games. Using magnetic pieces on a globe that acts as a new form of game board; Verrago is the first of it's kind. You play on the planet Vaeya, as any kind of political unit(character, family, kingdom, empire, global civilization)on a world where everything hangs in a Veridian Balance. Should this balance be disrupted by you and your fellow players(and it surely will), the planet will try to end your evil ways by uniquely trying to exterminate everyone, starting with the worst perpetrators. This is a world where nothing stays the same, mysteries deepen as you explore the Veridian and attempt to master it and you can choose to band together to fight the apocalypse or become it.
With 5 main paths to victory(Epic Story, Strongest Lineage, Veridian Imprint, Strategic Survivor and Richest Delve) you choose how and where your victories can occur over your opponents. Victories, over many plays of Verrago, create a historical record of your globe that becomes unique to your gaming group. The globe itself acts as your "save file" so that your playthrough's matter, your time playing the game works more for you. This allows you to create a long term dialogue with your board game group and weave ever more elaborate stories that add value to your group and add additional meaning to your friendships
Dungeon Masters, this game will help you relieve your creative burdens and allow you to get immediate player investment into your game when doing your session zero game! Verrago uses a co-created history mechanic for telling epic, memorable stories that can also be used for your Table Top Role Playing Games(TTRPG)! Vaeya, the planet of our setting, is an INTERACTIVE SETTING, the cards allow for a dynamic storytelling experience that also gives you(and your characters) direct control over a range of theme/lore heavy game mechanics. Verrago also has an event system that helps you generate a world spanning, geopolitical and Veridian situation EACH GAME, with care to minimize the burdens of recording the history during the game. A more detailed record is possible, yet this will be at your own discretion. Verrago also has a Campaign Book that works with the card generation system so that you get the best of both worlds, the strength of linear storytelling AND the strength of the "choose your own adventure" style of storytelling. There is nothing that approaches the scope and scale of Verrago on the board game market. There's something special about creating a world with others…
The game has 3 main parts, of which the first is optional and the third won't always occur. Here is a rough overview of how it will play(subject to change as the game is currently in development):
1. The Pre-Game(Optional): You play with your friends to set the precise magical conditions you want to play and feel out and fine tune the game so that you aren't limited to randomization. This pre-game is about generating the world you will play next and takes about 30-60min. There are 25 preset scenarios that allow you to skip this pre-game and are recommended for your first few times playing the game.
2. Verrago: You will Explore, Expand, Exploit, Experiment and Exterminate your opponents, sometimes needing to create temporary/permanent alliances to survive the more dangerous events that occur randomly(or by player action). As you acquire power in the world, the planet fights back as you are disrupting the careful magical balance of the world.
Once you've disrupted the balance enough, through your own actions or that of the planetary response, the apocalypse will begin.
3. Sudden Death Apocalypse: Featuring 125 different ways to destroy the world, each apocalypse will demonstrate something new about Veridian and the world. The Apocalypse has 5 randomly drawn event cards at the beginning of the game that slowly get turned over revealing the apocalypse code that players look up in the event book. Players take their most empowered character(s), their Verrago, and attempt to maneuver them so that the apocalypse affects other players more than themselves. Whatever remains is yours to keep for the next game. At the end of the apocalypse, the game will be recorded using pen and paper and you can choose to continue your play and build upon the remains of the previous age. You win when you survive and no one else does, or you survive better than everyone else. You can also win by creating the strongest legacy and other forms of victory. Victory is more of a long term goal, with challenges like "survive the 25 preset scenarios in different configurations".
Verrago is a multi-layered game, with 5 expansions already designed to work with the existing game, so that you will only ever need to purchase 1 globe to play it. Each expansion will provide the scope of a full game, using cards and add an in depth focus to the game, changing it into many different forms of popular game mechanics like: Warfare, Trade, Technology, More Veridian(Magic), Culture, and Survival/CO-OP. The game is designed to fundamentally change into your preferred style of game by purchasing an expansion. Or play all expansions together, they are interchangeable and don't have dependencies on each other. Future expansions WILL have dependencies on the core expansions. Bring whichever expansion you like to the table to try to shift the focus of the game "your" way as you unlock the option to play your expansion by your in game actions.
About this project and the designer:
This unique Role Playing Game(RPG) setting has undergone rigorous craft, research and extreme care in it's composition as a passion project beginning in 2003. S.A. Heinichen was trained at Navy Nuclear Power Training Command and then at Submarine Base Groton in the U.S. Navy, in addition to having held a Top Secret security clearance. S.A. Heinichen's extensive training in multiple applied engineering fields has allowed him to incorporate many scientific disciplines into the magic system, represented simply by the rune system. The Cloak and Dagger excitement of the intelligence community is a theme throughout Verrago. Verrago strikes a balance between science fiction and high fantasy and you can actively change this balance during the course of the game as part of your strategic storytelling goals.
—description from the designer
We are still in the middle of updating the details of the game Verrago: The Fantasy Globe Game. If you would like to share information or thoughts about this game, feel free to contribute by submitting it via the comments form below. You input is much appreciated and will go towards enhancing the information on this site. Thank you in advance!
Any additional information to share about Verrago: The Fantasy Globe Game? We would like to hear from you! Provide your review, feedback and comments via the comments form below and we will update this page. 

Thank you!
Rulebook and How to Play Guides
How to Play Verrago: The Fantasy Globe Game and Review Videos
Awards Won by Verrago: The Fantasy Globe Game