Game Description
Eldritch Horror Review
Eldritch Horror Game Theme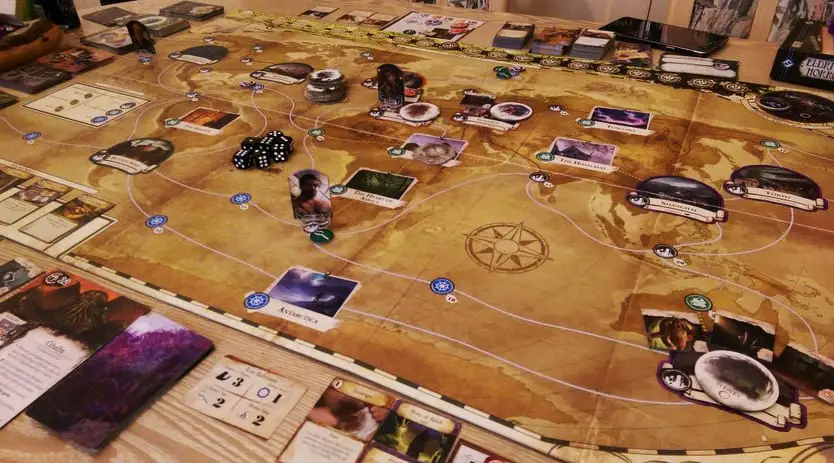 An ancient evil (known as the Ancient One) is stirring in the world. Now, you and your trusted colleagues must travel around the world, to defend against the coming horror. You will face foul monsters, brutal encounters, and strange mysteries. You and your fellow investigators must unravel the mysteries around the globe in order to push back the mayhem that threatens to destroy humanity.
Eldritch Horror Gameplay
Eldritch Horror is a cooperative game of terror and adventure where players are investigators travelling around the world to solve mysteries, gather clues, and protect the world from an Ancient One (an ancient enemy threatening to destroy the world). Players will choose an Ancient One for their game. Each Ancient One has its own unique decks of Mystery and Research cards and players will uncover the mystery behind them. Each Ancient One will provide players with unique game experience.
Eldritch Horror Game Objective
The investigators' goal is to banish the Ancient One from this world by solving Mysteries.  Mysteries are solved by resolving tasks on the Mystery cards. Through the Mystery cards (along with the locations of otherworldly gates, menacing monsters, and helpful clues), investigators will decide where to travel.
In addition, investigators need to deal with many dangers facing the world. These appear in the form of Gates (spawning Monsters and awakening the Ancient One) and Rumor Mythos cards (which harm investigators and can end
the game prematurely).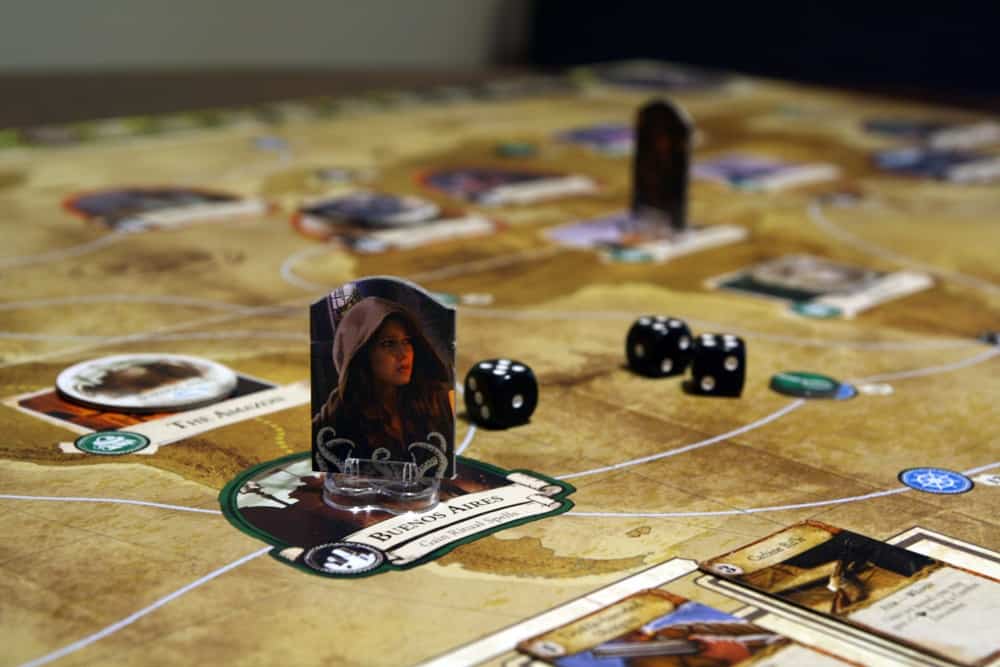 Eldritch Horror Review Summary
Comments Rating
( reviews)
Pros
Strong theme – Great story and writing brings the game to life
High unpredictability and hence, great replayability
Fast-paced
Cons
Challenging game (not for those who want something simple)
Best for 4-5 players
Eldritch Horror Review links
Eldritch Horror - Shut Up & Sit Down Review
Keep us ad free: https://bit.ly/SupportSUSD ~~ Buy This Game: http://bit.ly/BuyEldritch Visit SU&SD for more cardboard antics: http://bit.ly/SUSDEldritch ...
Why I Love Eldritch Horror - with Tom Vasel
Tom Vasel talks about what makes him go mad for Eldritch Horror! BGG link: https://boardgamegeek.com/boardgame/146021/eldritch-horror Buy great games at ...
Eldritch Horror Overview
Eldritch Horror is a cooperative game of global mystery and terror in which one to eight players take the roles of globetrotting investigators working to solve ...
Game Features
Recommended Age

14

Estimated Game Time

180

min

Min number of players

1

Max number of players

8