How to Play Hungry Hungry Hippos Guide
Check out our easy to read how to play Hungry Hungry Hippos online guide.
How do you setup Hungry Hungry Hippos?
Attach each Hippo by sliding front tabs into the pond. Lock it down in place
Fill marble release area with marbles and place golden marble in any open area
Hold down the hippo and pull its neck out. Press and release a few times.
Gameplay
Each player picks a hippo
Launch all the marbles into the pond
Choose a player to yell 'GO'
Every player now tries to gobble as many marbles as possible
How do you win in Hungry Hungry Hippos?
The player with the most marbles wins
An alternative game rules is whoever gobbles the golden marble wins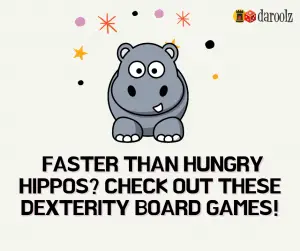 Share on facebook Facebook Share on twitter Twitter If you enjoy Hungry Hungry Hippos, the fast-paced dexterity game that involves famished heads of hungry hungry hippos fchomping and swallowing marbles, here are some similarly themed games that you should check out. Dexterity board games are fun for the family, require minimal tactical thinking, involve simple
Read More »