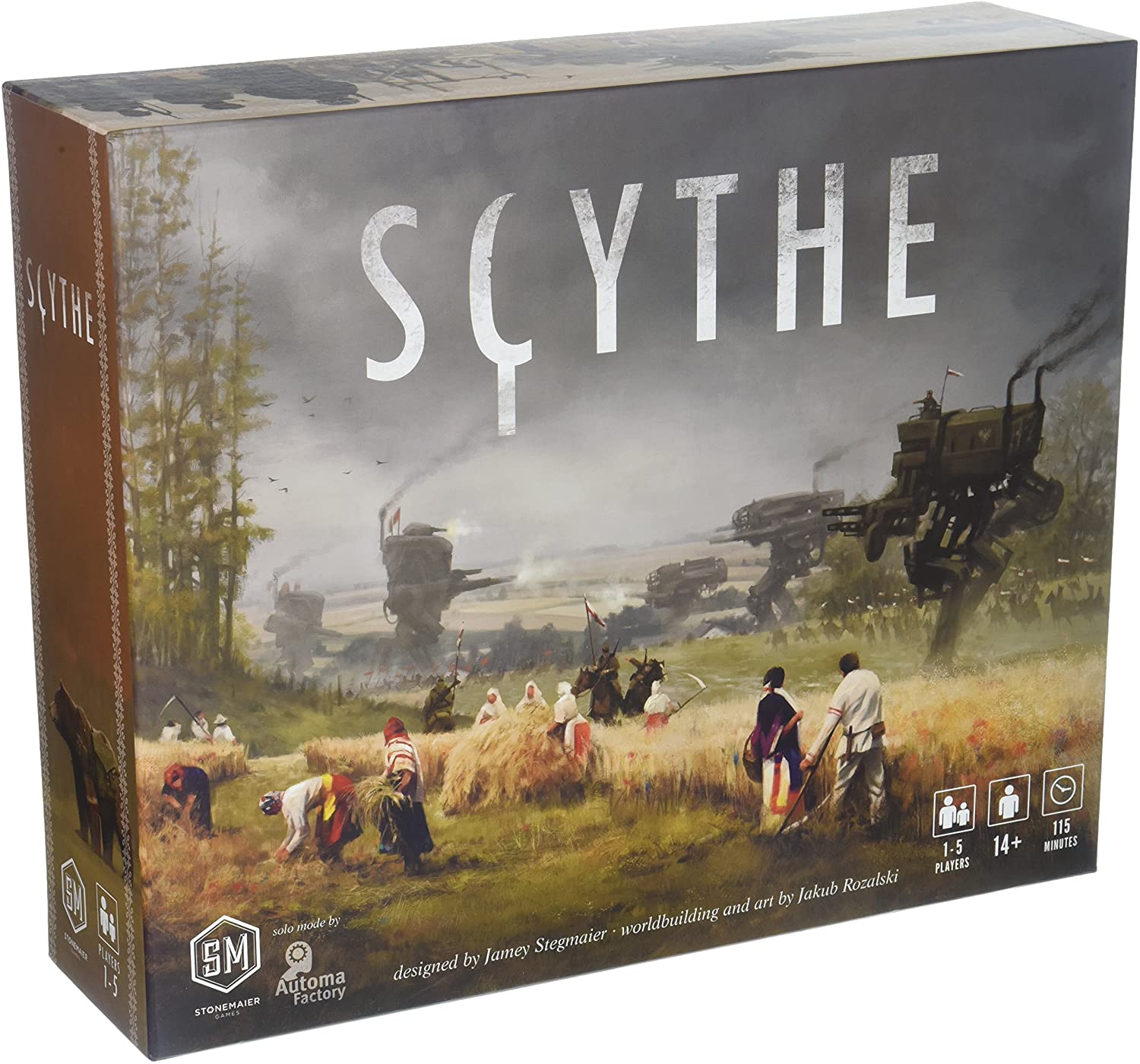 Scythe Game Features
Players: 1 – 5 players Duration: 90 – 115 mins Min. Age:13+ Game complexity MEDIUM Genre: Economic,Fighting,Miniatures,Science Fiction,Territory Building Solo game mode: Yes Co-op: No Online Version: Yes
What is Scythe about?
Scythe is set in an alternate-history in the 1920s. It is a period of farming and war. There are five Eastern Europe factions vying for fortune and land in the mysterious region called 'The Factory"
Each player represents a character trying to make their faction the richest and most powerful in Eastern Europa. Players begin the game with power, coins, combat acumen and popularity. Each player starts in a different location and has a hidden goal. They will build infrastructure, explore the world and combat other factions.
Game advances as players gain stars (achievements on the board). The game ends when a player places their 6th star on the Triumph Track. Stars are earned by:
Deploying, upgrading mechs
Building structures
Enlisting recruits and workers
Completing an objective card
Winning combat
Gaining popularity and power
The goal of Scythe is to have the greatest number of coins at the end of the game. Typical winning fortune is $75. You collect them during the game but earn most during end-game scoring.
Collect coins for star tokens, territories and resources controlled.
You earn coins for:
Every star token placed
Every territory controlled
Every 2 resources controlled
The number of coins you earn is dependent on your popularity (the higher popularity the more coins). You also get bonus coins based on the location of the structures you have built.
---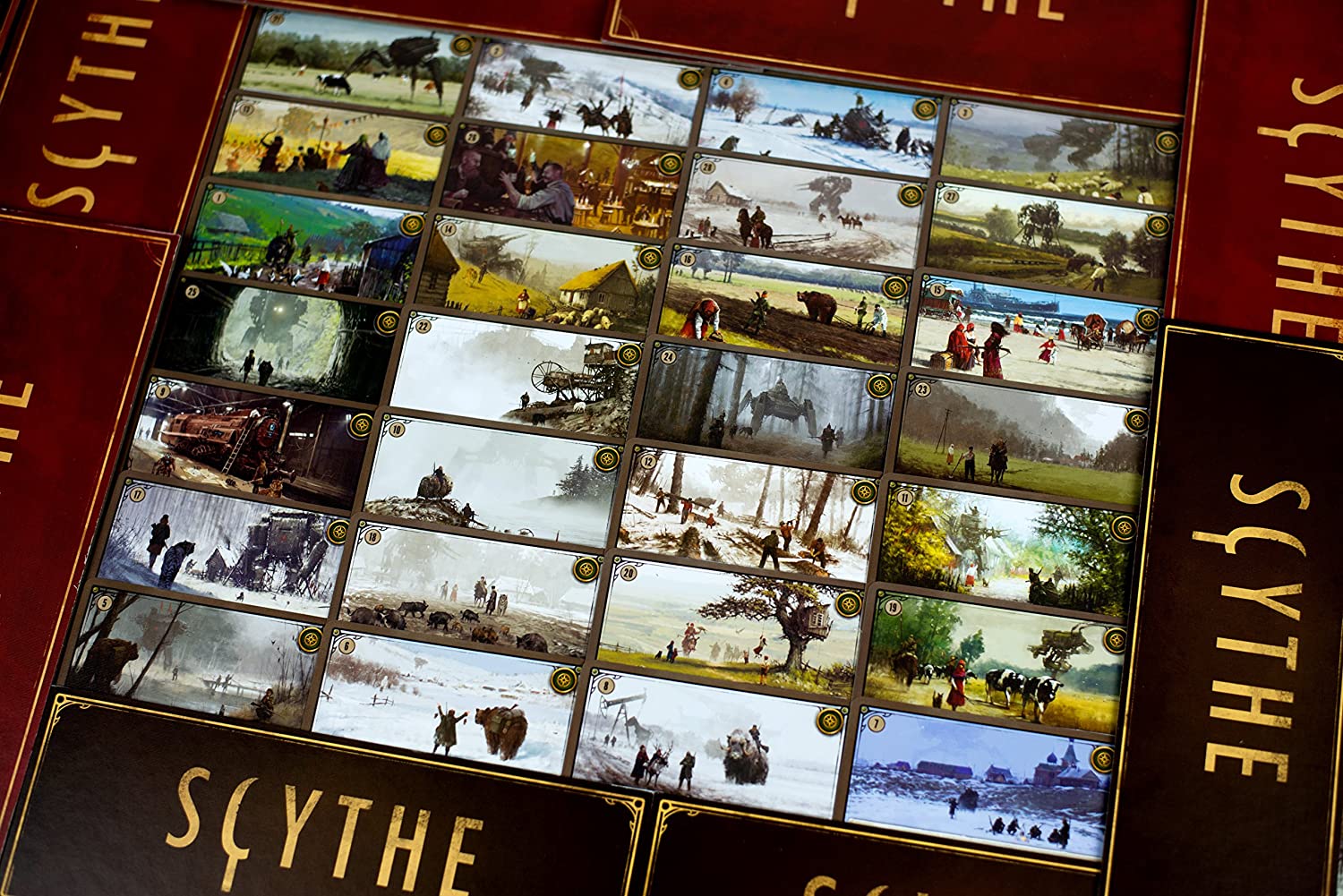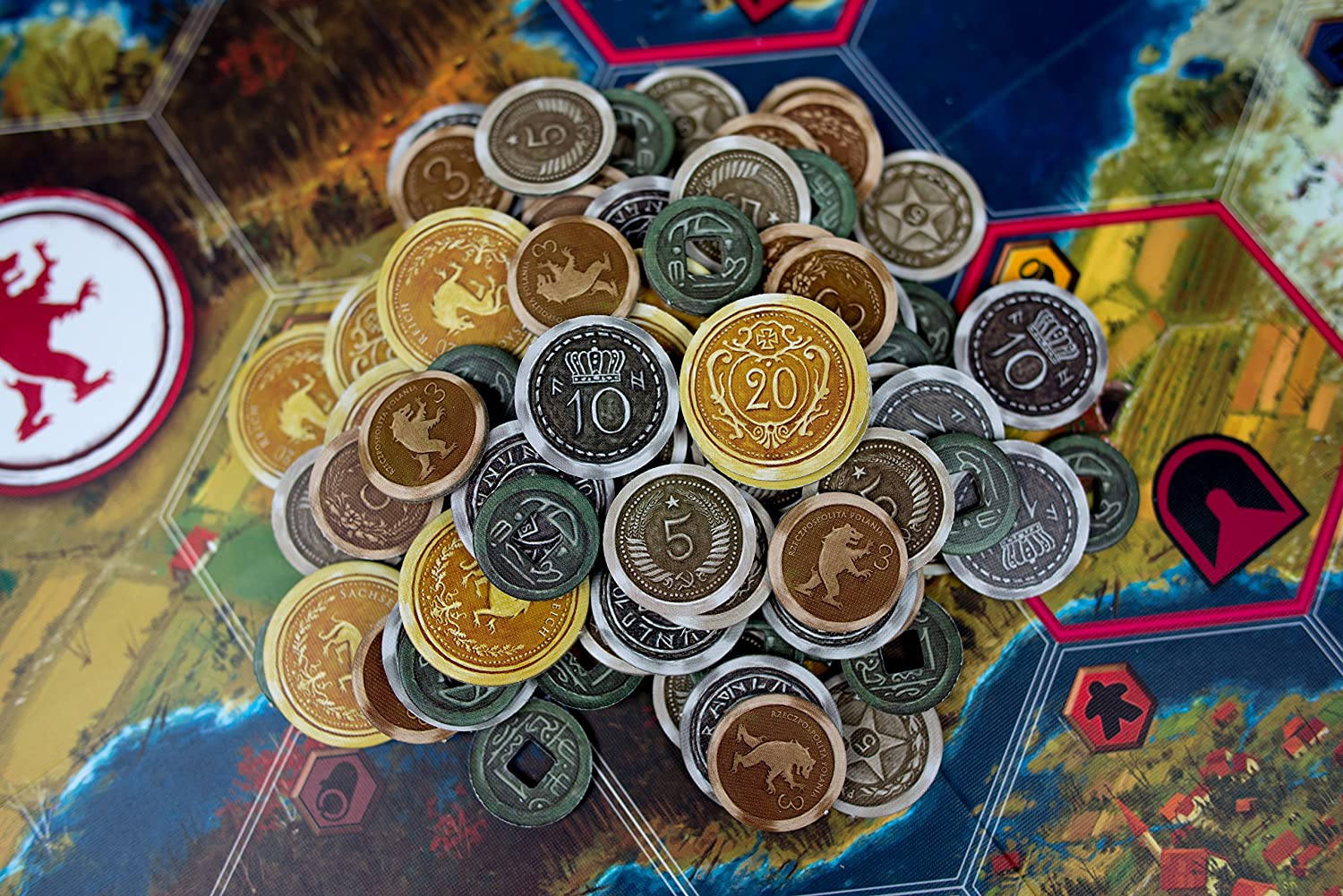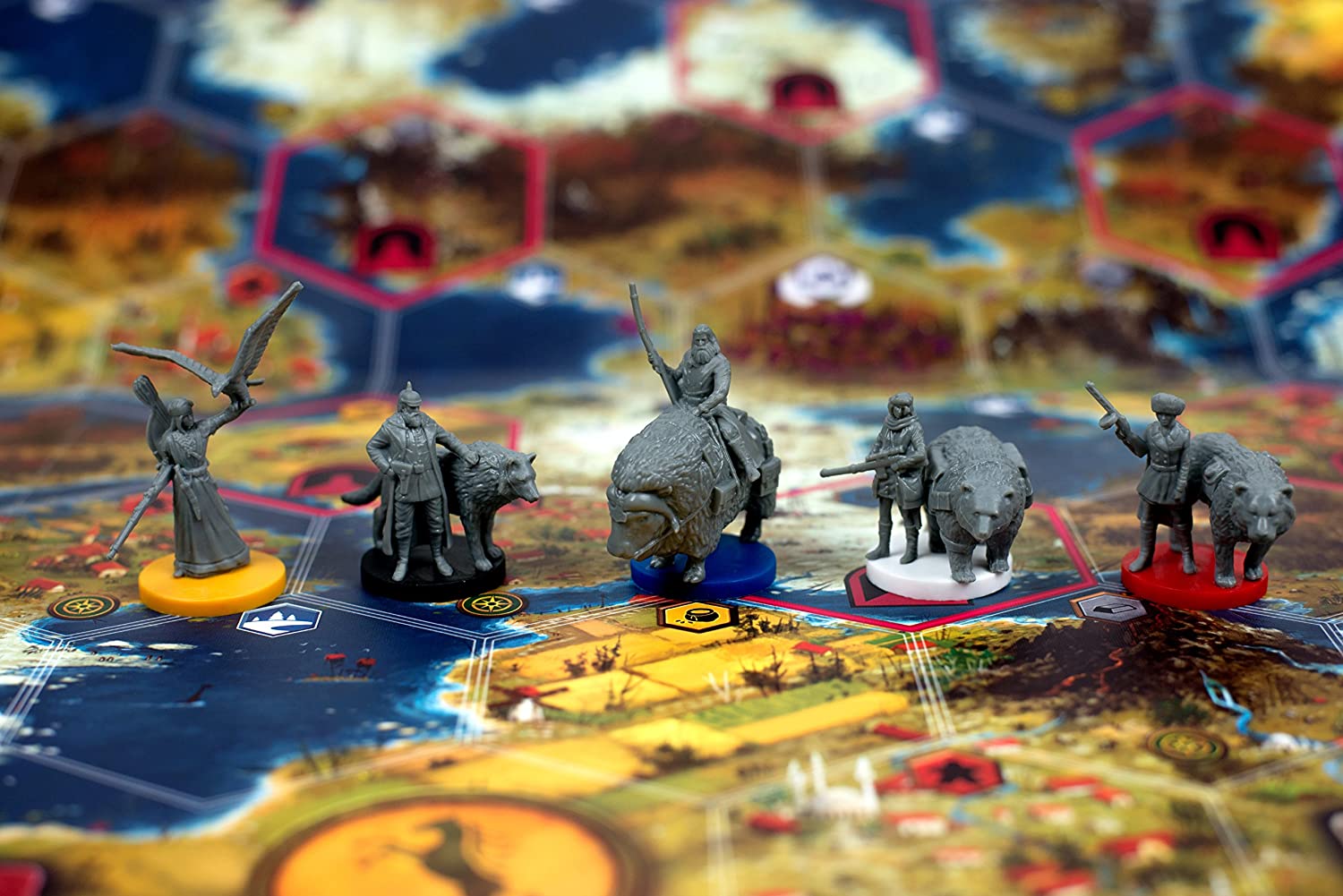 Where can I Play Scythe Online
How to Play Scythe Videos and Reviews
Scythe Awards
2017 Scelto dai Goblin Winner
2017 Lys Passioné Finalist
2017 JUG Adult Game of the Year Finalist
2017 Jogo do Ano Nominee
2017 International Gamers Award – General Strategy: Multi-player Nominee
2017 Gra Roku Best Original Artwork Winner
2017 Gra Roku Advanced Game of the Year Nominee
2017 Goblin Magnifico Nominee
2017 Best Science Fiction or Fantasy Board Game Nominee
2017 As d'Or – Jeu de l'Année Expert Winner
2017 As d'Or – Jeu de l'Année Expert Nominee
2016 Tric Trac Nominee
2016 Tric Trac d'Or
2016 Swiss Gamers Award Winner
2016 Swiss Gamers Award Nominee
2016 Meeples' Choice Nominee
2016 Jocul Anului în România Advanced Finalist
2016 Golden Geek Most Innovative Board Game Nominee
2016 Golden Geek Board Game of the Year Winner
2016 Golden Geek Board Game of the Year Nominee
2016 Golden Geek Best Thematic Board Game Winner
2016 Golden Geek Best Thematic Board Game Nominee
2016 Golden Geek Best Strategy Board Game Winner
2016 Golden Geek Best Strategy Board Game Nominee
2016 Golden Geek Best Solo Board Game Winner
2016 Golden Geek Best Solo Board Game Nominee
2016 Golden Geek Best Board Game Artwork & Presentation Winner
2016 Golden Geek Best Board Game Artwork & Presentation Nominee
2016 Cardboard Republic Architect Laurel Nominee
2016 Board Game Quest Awards Game of the Year Nominee
2016 Board Game Quest Awards Best Strategy/Euro Game Winner
2016 Board Game Quest Awards Best Strategy/Euro Game Nominee
2016 Board Game Quest Awards Best Production Values Nominee