---
I love spending quality time with the family playing card games. They make entertaining and enjoyable evenings for the whole family. Card games are also great at helping your young ones practice and sharpen their critical and strategic thinking skills.
Classic Family card games are great for passing the time and improving family bonds. They make an excellent choice as they are typically easy to learn, fast-paced, and usually can be played in under 30 minutes.
This post lists the all-time favorite classic family card games to check out.
Go Fish – A perfect game to teach younger children about matching pairs.
Looking for a fun and interactive way to teach young children about matching pairs? Try the classic game of Go Fish! With its colorful cards and simple instructions, Go Fish will help introduce your little ones to matching pairs. Find out how to play Go Fish.
Crazy Eights – Another great game that is easy to learn and can be enjoyed by all
Crazy Eights card game is easy to learn but will keep you on your toes as you race to play and match your card to the one on the discard pile.
War – An exciting battle of luck between two players or teams
War is a simple-to-learn and quick-to-play luck-based 2-player card game. Players draw cards from the pile and the highest card wins. However, if there is a WAR, the game can go either way, with unexpected twists and turns that keep everyone on the edge of their seats, which makes it so exciting! Learn how to play WAR the card game.
Uno – The perfect game for all ages, with an emphasis on strategy and luck
Uno is a timeless classic that is perfect for all ages, from young children to seasoned adults. Gameplay is similar to Crazy Eights, where players attempt to play cards matching the discard pile card. Uno however, creates more excitement and twists through action cards that help players change the dynamics of the game or put others at a disadvantage.
Like Uno, but would like to try something different? Check out these interesting Uno editions that are based on the same gameplay but add a different twist to the game.
Another popular classic where you pick and draw cards to form sets of cards that make up a 'Phase'. There are 10 different phases defined by different combinations of cards. Be the first to complete 10 phases and win. Learn how to play here.

Players: 2 – 4 players | Game Duration 30 – 60 mins | Min. Age 8+ | Game complexity: EASY Genre: Card Games Solo game mode: No | Co-op: No | Online Version: No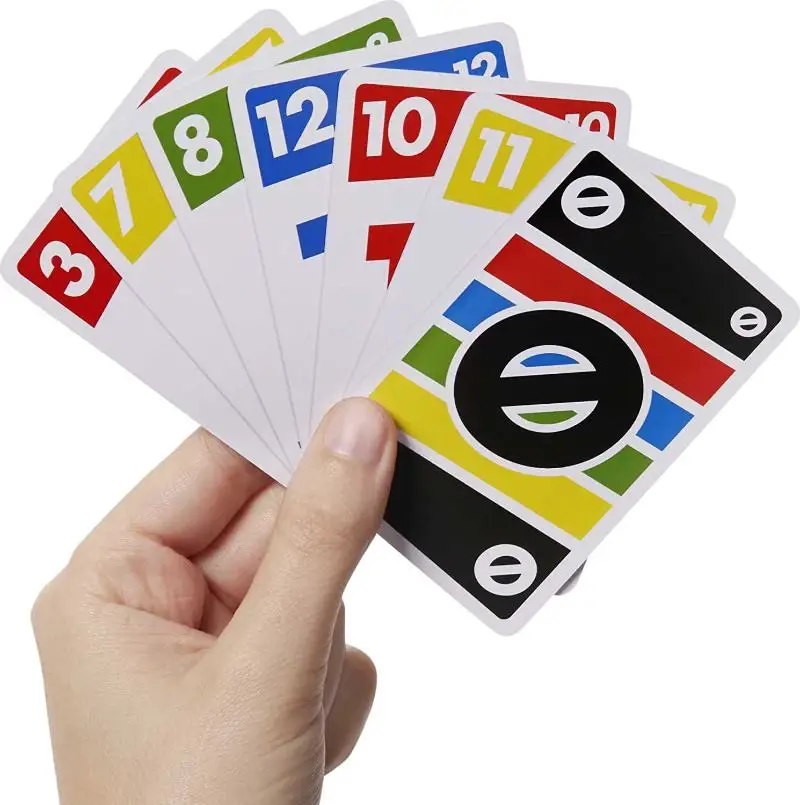 In Skip Bo, each of you has a stockpile of cards. You draw from this stockpile and either make a new building pile or add to your existing building pile. You can only do so if they are in order from 1 to 12. Be first to play all your cards to win. Learn how to play Skip bo here.

Players: 2 – 5 players | Game Duration 20 – 30 mins | Min. Age 8+ | Game complexity: EASY Genre: Solo game mode: No | Co-op: No | Online Version: No
Everyone is dealt a hand of cards. Players take turns to be the judge. During the round, the judge plays a green apple card. The card is a question card and contains 2 words. You then pick a card from your hand that best answers the played card. If the judge picks your card, you win.
Each round includes surprising and outrageous comparisons from a wide range of people, places, things, and events.

Players: 4 – 10 players | Game Duration 25 – 35 mins | Min. Age 12+ | Game complexity: EASY Genre: Card Games, Humour, Party Game Solo game mode: No | Co-op: No | Online Version: No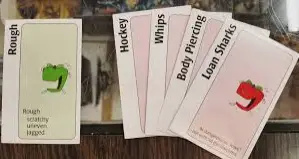 FIve Crowns is a set collection card game like Rummy where players compete to complete sets and runs.
Players play 11 hands/rounds. In each round, players attempt to play all their cards by making card combinations. Points are awarded to players with cards in hand at the end of each round. After 11 rounds, the player with the lowest score wins.
Each player is dealt 10 cards and they compete to sort their cards in order on their racks from LOW to HIGH. They do this by drawing and discarding cards.
In Cribbage, you use a standard deck of cards. Each of you is dealt a hand of cards, where you attempt to combine and play different sets of cards to score points. Score 121 and win.
Learn how to play Cribbage.

Players: 2 – 4 players | Game Duration 25 – 35 mins | Min. Age 10+ | Game complexity: EASY Genre: Abstract Strategy, Card Games Solo game mode: No | Co-op: No | Online Version: Yes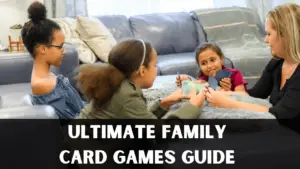 Family Card Games bring loads of fun to the family. These games are usually fast-paced, easy to learn, and get started and play. The best thing about family card games is how versatile and accessible they are. Adaptable to any…