Disney Villainous Expansions to check out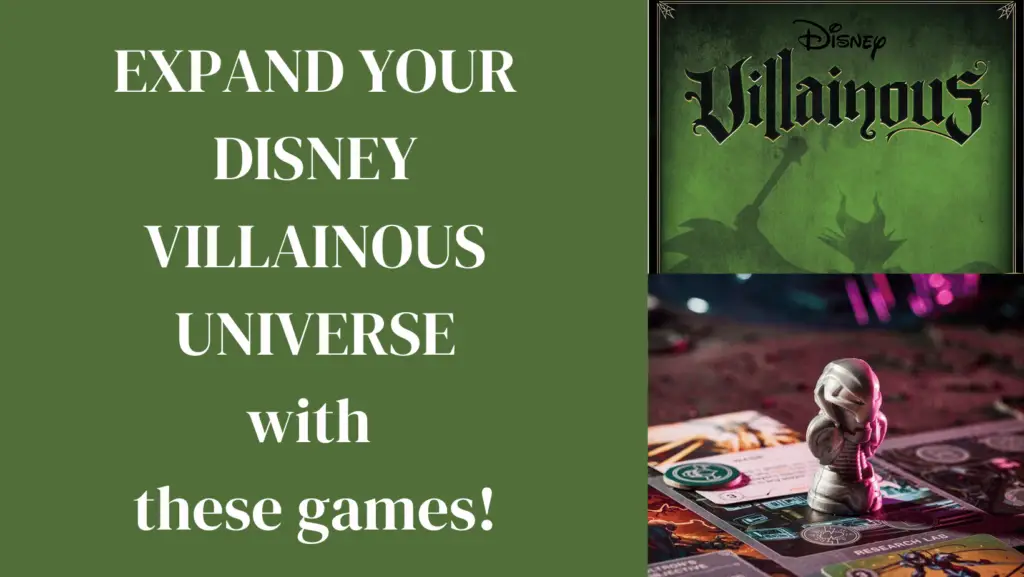 ---
Are you a fan of Disney Villainous? Heard a great deal about Disney Villainous but yet to get the game?
Here is a quick overview of the various Disney Villainous Expansions and what is currently on offer.
The Amazon Board Game Prime sale is a great time to get hold of a set!
Amazon Prime is currently offering Disney Villainous and Disney Villainous Expansions at some great discounts.
Disney Villainous Expansions / Expandalones
These expansions add more characters to your Disney Villainous games. They can be played as a standalone game or combined with other Disney Villainous games.
Deal of the day! 20+% off on Amazon Prime Sale
Players: 2 to 3 | Game duration from: 40 mins | Game Complexity: EASY

With over a million copies sold worldwide, this award-winning line includes the animated classic Disney character Madam Mim (The Sword in the Stone), along with two new Pixar villains Syndrome (The Incredibles) and Lotso (Toy Story 3).
Mix and Match Villains.
With Bigger and Badder on its own, you can play with two or three players, but you can also mix and match Villains from other Disney Villainous games.
Players: 2 to 3 | Game duration from: 40 mins | Game Complexity: EASY

Be a Disney Villain striving to achieve your devious goal. Take your opponents by surprise as you discover unique abilities!
Gaston (Beauty and the Beast), Lady Tremaine (Cinderella), and the Horned King (The Black Cauldron) are all introduced in Disney Villainous: Despicable Plots. Gaston must remove obstacles from his realm in order to convince Belle that he's the perfect man for her. Lady Tremaine needs to marry one of her stepdaughters to the Prince.
To win, the Horned King must fill his Realm with Cauldron Born-but first, he must claim the power of the Black Cauldron!
Disney Villainous: Despicable Plots can be played on its own with two or three players. Or, you can combine it with other Disney Villainous titles for up to a six-player game.
Players: 2 to 3 | Game duration from: 40 mins | Game Complexity: EASY

Disney Villains have their own objectives and goals in this asymmetrical game. There are 3 Disney Villains to choose from: Hades, Dr. Facilier, and the Evil Queen. As well as Hercules and Zeus, you'll find Meg, Tiana, Prince Naveen, Louis, Ray, Mama Odie, Snow White and The Seven Dwarfs in the fate decks!
Game night fun for Disney fans and families - Wicked to the core is a great game to play with friends or family and makes a great gift for Disney fans!
Aside from being a standalone game, Wicked to the Core can also be played with the other Villainous games: The original Villainous (The Worst Takes It All), Evil Comes Prepared, and Perfectly Wretched.
Instructions are clear and easy to understand! Each villain has a guide, and these guides will inspire you to craft the most successful plan possible!
In this expansion, you'll find two obscure villains in Dr Facielier and Hades, but don't let that put you off, their decks are incredible, and they add a much-needed change of pace to the game.
It's the same Evil Queen, who draws specific cards and kills the hero, but it's not too complicated so it's forgiven for being the same.
It's a great deck for Hercules fans, especially because they really work the theme.
Players: 2 to 3 | Game duration from: 40 mins | Game Complexity: EASY

You have 3 different Disney villains to choose from — Cruella De Vil, Mother Gothel, and Pete. The fate decks also feature your favorite protagonists like Pongo, Perdita, Sergeant Tibbs, Rapunzel, Flynn Rider, Paschal, Steamboat Willie, Minnie Mouse, Donald Duck and more!
Perfectly Wretched can be played as a standalone game or with the other games in the villainous line.
Explore Villainous in the Marvel Universe!
Marvel Villainous
Players: 2 to 4 | Game duration from: 40 mins | Game Complexity: EASY

Become an iconic Marvel villain. Use sinister abilities to achieve your goals. Master the game with Thanos, Hela, Killmonger, Ultron, and Taskmaster! Each player takes on the role of a Marvel Villain. On your turn, place your Villain mover at a different location in your Domain, then perform the actions available there. The first Villain to complete the Villain's objective wins!