There's nothing better than a great deduction and detective board game!  Cluedo or Clue is an example of a very popular detective board game. Deduction games let you solve problems collaboratively or competitively, using your logic and wits! 
Our selection of detective board games will test your deduction skills if you've already solved a few tabletop mysteries.  If you or your family enjoy games like Cluedo, these games will take your detective-solving skills to the next level.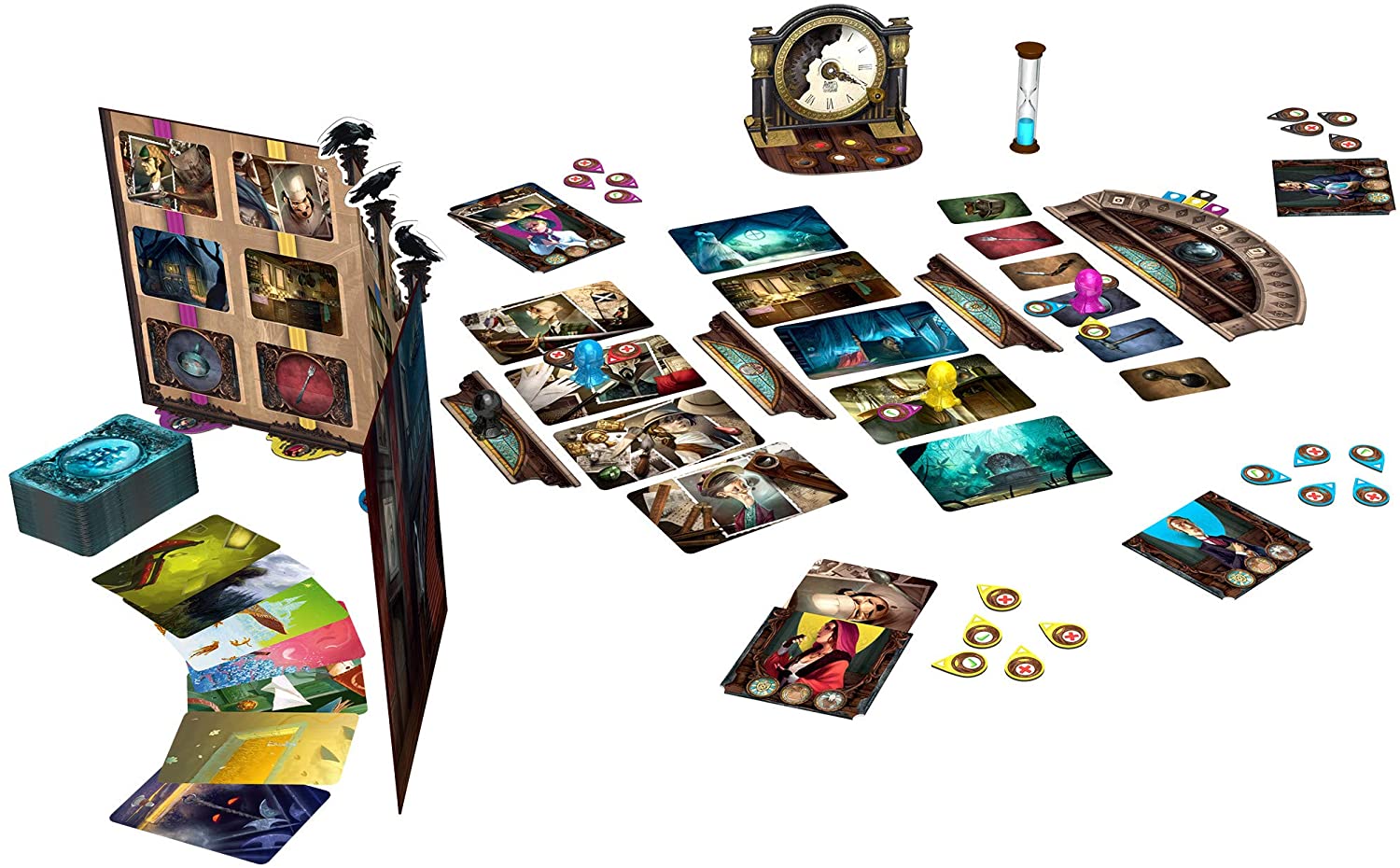 Players: 2 to 7 | Game duration from: 40 mins | Game Complexity: EASY Mysterium rules pdf / rulebook
The Warwick Manor Was The Scene Of A Horrible Crime Thirty Years Ago. The Ghost Of The Murdered Servant Haunts The Mansion, And A Group Of Psychic Investigators Must Solve The Mystery
A cooperative board game in which one player assumes the role of the victim (now a ghost) and the other players take the role of psychics. Players Psychically Communicate with the victim to solve a mystery throughout the game. Psychics are led to the correct culprit by the ghost
Interpret Visions To Solve Mysteries
To determine who the actual murderer is,  players investigate a case assigned to them. Ghosts give psychics clues. Can they find the killer, weapon, and location, Or will an evil criminal complete the perfect murder?
High Variability
No two games are alike with dozens of suspects, weapons, and locations! Need a new challenge? There are expansion sets available (base game required)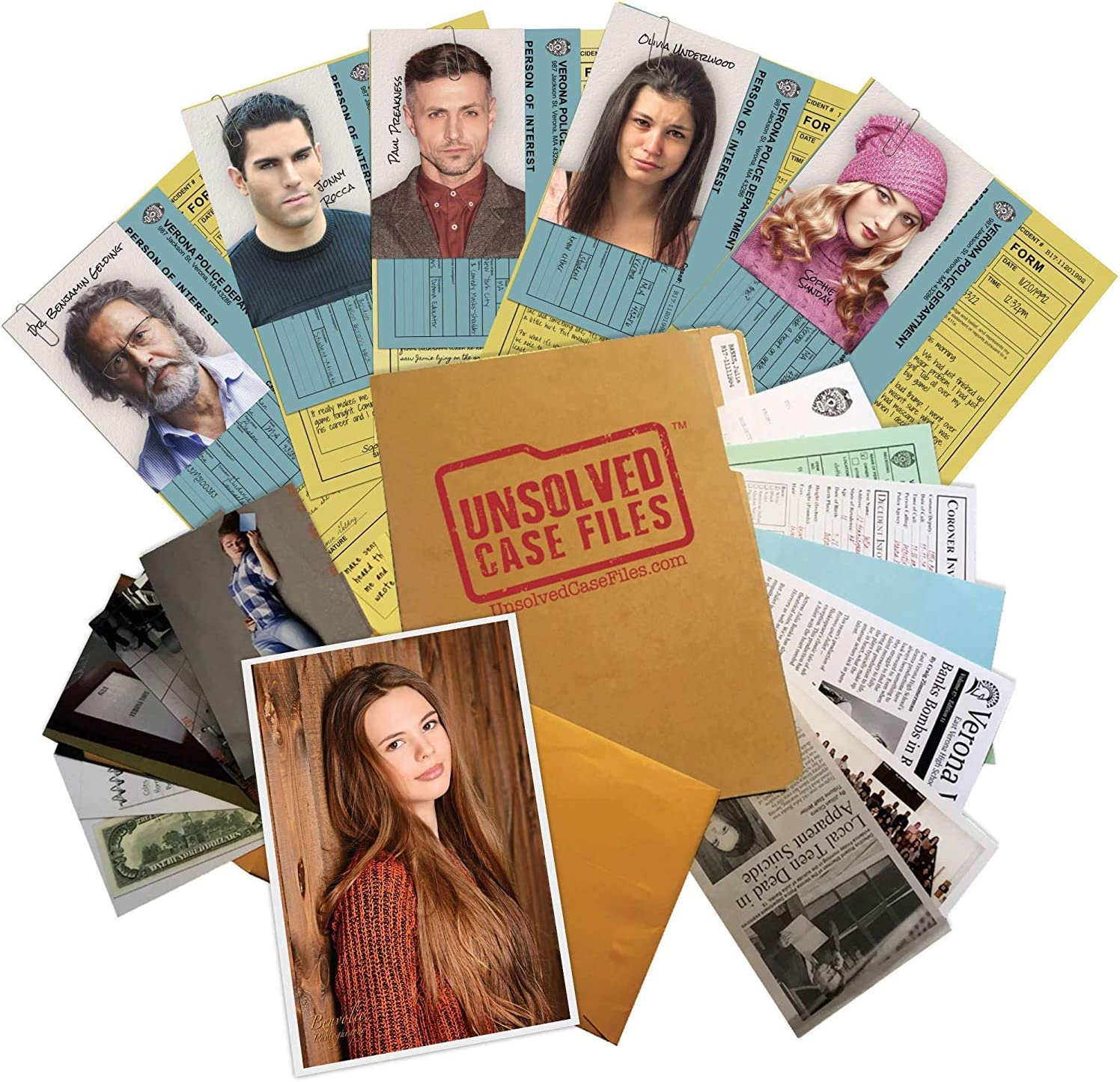 Players: 1 to 4 | Game duration from: 120 mins | Game Complexity: EASY
With Unsolved Case Files, you become a cold case detective trying to solve a murder that happened decades ago using only the original investigator's case file. Can you find out who killed Jamie Banks on November 20, 1992? Check out your detective skills in Unsolved Case Files.
CRACK THE CASE BY SOLVING THREE MYSTERIES - This cold case murder mystery game requires you to find three clues. The first thing you need to do is prove that Jamie wasn't alone when she fell. Finally, disprove a key suspect's alibi and identify the clue that will lead you to the real killer. The game requires you to solve three mysteries in order to play.
Over 50 evidence photos and documents are included in this unsolved case file game, including newspaper articles, crime scene photos, evidence reports, coroners reports, class photos, school newspapers, suspect interrogations, witness statements, character photographs, and much more. There is nothing real about this mystery game, but it will make you feel like a real cold-case detective.
To progress through each step of the case, you'll need to go to an online answer page that requires you to prove you cracked it. You can keep investigating if you don't have the answer right without being spoiled by the correct answer.
A great challenge for teens and adults who enjoy murder mysteries. PERFECT FOR INDIVIDUALS, COUPLES, GROUPS AND PARTIES. Working together to solve this mystery is a great way for couples to escape boring date nights. Also perfect for dinner parties or family gatherings, this adult mystery game is fun and easy to play. Play Unsolved Case Files with your partner, friends, or family and experience a unique game experience.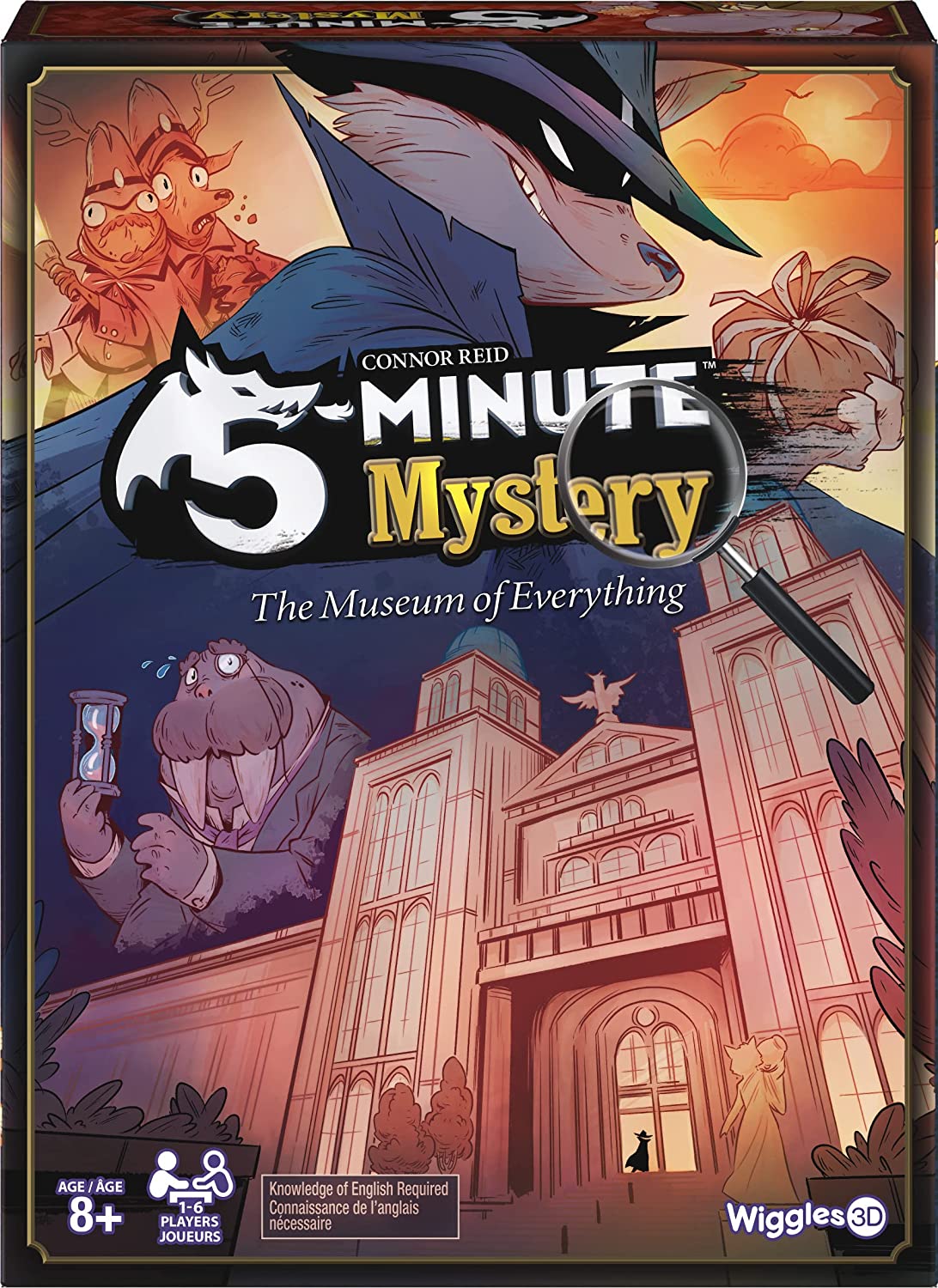 Players: 1 to 4 | Game duration from: 5 mins | Game Complexity: EASY 5-Minute Mystery rules pdf / rulebook
Play this real-time, cooperative board game together and solve mysteries!
In just five minutes, find hidden symbols, piece together clues, and arrest a culprit
Museum of Everything curator needs your help!The priceless MacGuffin has been stolen by some nefarious scoundrel! Detect hidden symbols in the museum, narrow down the suspect list, and make an arrest by finding clues about the culprit!
This game is quick and easy to pick up, so it's perfect for newbies, busy families, and groups of friends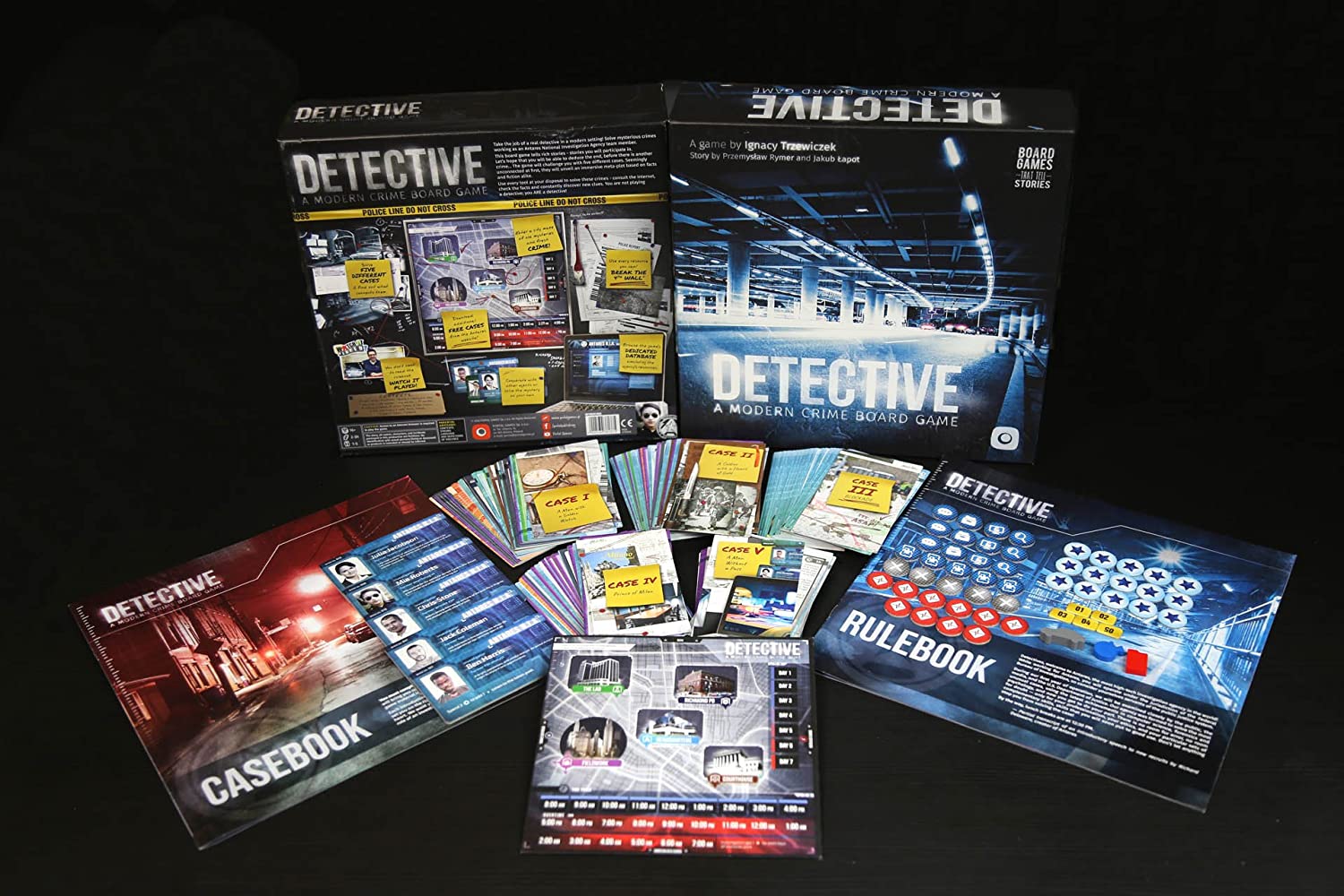 Players: 1 to 5 | Game duration from: 120 mins | Game Complexity: MEDIUM
In Detective: A Modern Crime Board Game you are going to solve FIVE different cases and find out what connects them, you are going to BREAK THE 4th WALL by using every resource you can, you are going to browse the game's DEDICATED DATABASE simulating your agency's resources, you will enter a city maze of old mysteries and fresh CRIME, and you will be able to COOPERATE with other agents or solve the mystery on your own.
Take the job of a real detective in a modern setting! In Detective: A Modern Crime Board Game, 1-5 players take on the role of investigators, solving mysterious crimes while working as an Antares National Investigation Agency team members.
This board game tell rich stories - stories you will participate in. Let's hope that you will be able to deduce the end, before there is another crime... The game will challenge you with five different cases, that have to be played in order. Seemingly unconnected at first, they will unveil an immersive meta-plot based on facts and fiction alike.
Detective: A Modern Crime Board Game brings classic, card-based, puzzle-solving gameplay into the 21st century with the introduction of online elements. You will gain access to the online Antares database that contains data about suspects, witnesses, and documentation from arrests and trials related to your case. Use every tool at your disposal to solve these crimes - consult the Internet, check the facts and constantly discover new clues.
You are not playing a detective; you ARE a detective! In 2020 Game of the Year special edition of Detective: A Modern Crime Board Game was published. Thanks to the overwhelmingly great response for the game and a worldwide success Portal Games was able to improve the basic game and add an additional component to the box. The new edition includes a set of 30 photos of character portraits, which the players can use during their investigation to make a mind map. The pictures show the suspects met throughout the game, and bring an amazing immersion to the gameplay. The set was previously available for purchase only as an additional promo item at the Portal Games store and during conventions. With the Game of the Year edition of Detective, now all players will be able to enjoy this great tool.
Sherlock Holmes Consulting Detective: The Thames Murder and Other Cases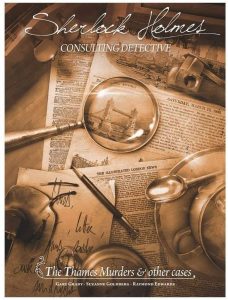 Players: 1 to 8 | Game duration from: 60 mins | Game Complexity: MEDIUM Sherlock Holmes Consulting Detective: The Thames Murder and Other Cases rules pdf / rulebook
Would you like to walk through Victorian London with Sherlock Holmes in search of Professor Moriarty?
Search the docks for the giant Sumatran rat? Walking up Baker Street as the fog rolls in, and hearing Holmes shout, "Watson, Watson! The game is on!"?
This is it! You can enter the opium den beneath the Bar of Gold, but watch out, Colonel Sebastian Moran may be lurking around the corner. Enjoy the mystery and excitement of Holmes' London in this challenging and informative game. Your deductive skills will be tested against your opponents and against Sherlock Holmes himself.
A mystery is presented to you, and it is up to you to trace the threads of evidence through the byways and mansions of nineteenth century London. To solve the crime, you'll interview suspects, search newspaper articles, and assemble data. How did two lions in Hyde Park die? Where are the National Gallery paintings? Who murdered Oswald Mason? Here are a few cases that will test your deductive abilities and ingenuity. No dice, no luck, but a test of your mind. To capture the feel of a bygone era, Holmesian and Victorian accuracy have been thoroughly researched.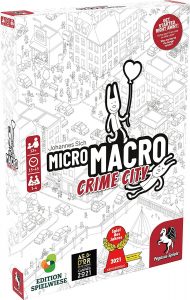 There are no views with that ID
Here in Crime City, crime lurks around every corner. There are disasters, devious robberies, and cold-blooded murders here. There is no control by the local police. Therefore, clever investigators are needed.
MicroMacro - Crime City is a cooperative detective game. Identify motives, gather evidence, and convict the perpetrators in 16 tricky criminal cases. The 75 x 110 cm large game board requires a keen eye as well as deductive skills to solve.
As Lead Investigator, one player reads out loud the case cards (but will also help solve the case). Each player chooses a case to play and the Lead Investigator reads out the start card and the first task. To answer each case card, the players explore the map of Crime City together. Once the last case card is answered correctly, the game ends.