You need to check out these editions of Sorry! Board Game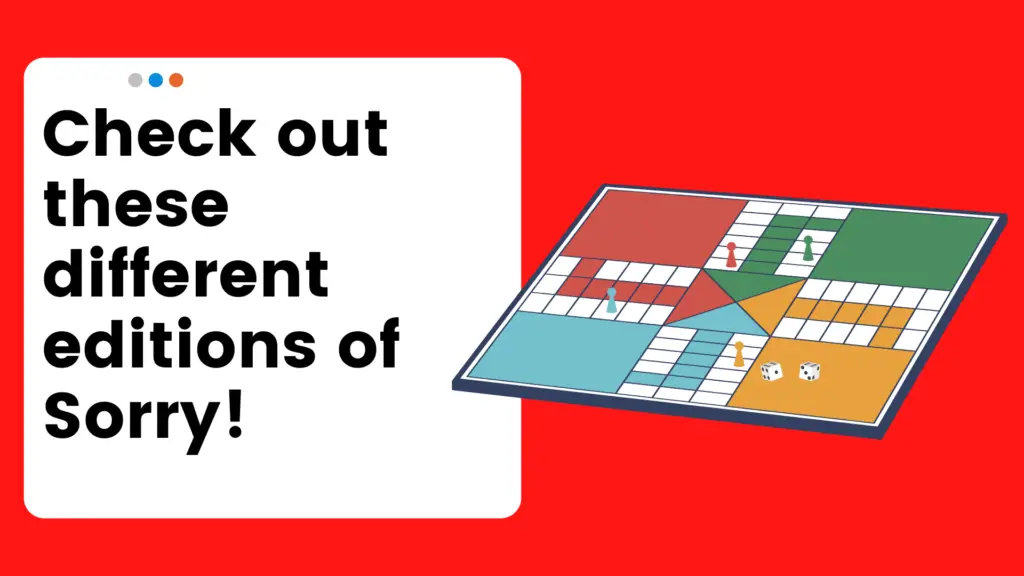 Sorry! has been around for a long time and it is easy to pick up and play. If you like Sorry, check out these different editions of Sorry! Board game. These editions add new mechanics to make the game more interesting!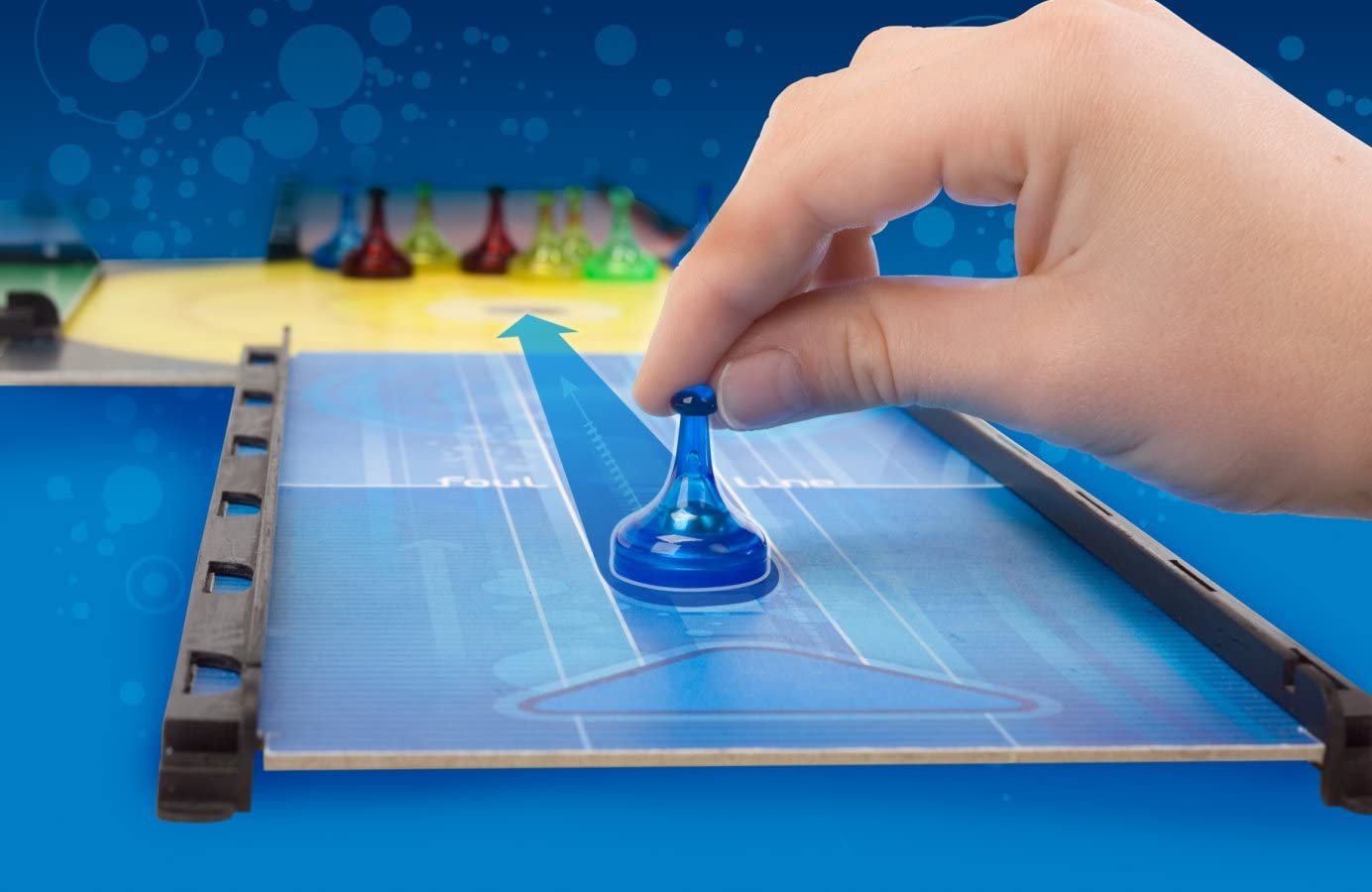 Players: 1 to 4 | Game duration from: 30 mins | Game Complexity: EASY
Play Sorry in a new way!
The Sorry! Sliders game features the primary Sorry! colors of blue, red, yellow, and green. In addition to the rolling pawns, there are 16 scoring pawns that are smaller than the rolling pawns and do not contain the rolling balls at their bottoms. In addition, the game offers four different versions of gameplay--a fun, new variation on the original Sorry! that only offers one way to play.
Adding a new twist to the game by turning it into a shuffle board game--sliding your pawns into the Sorry! or sliding your opponent's pawns into the Home! spaces and off the board to win.
Because it doesn't require a high level of skill or strategy, it can be enjoyed by people of all ages. In addition, it is a game that you can play for as long or as little as you like.
Sorry! Sliders are also educational for children who need to practice counting skills, since players must add up points and scores.
Based on the video game Fall Guys, this edition of Sorry! tries to bring the same knockout excitement you get from the Fall Guys video game.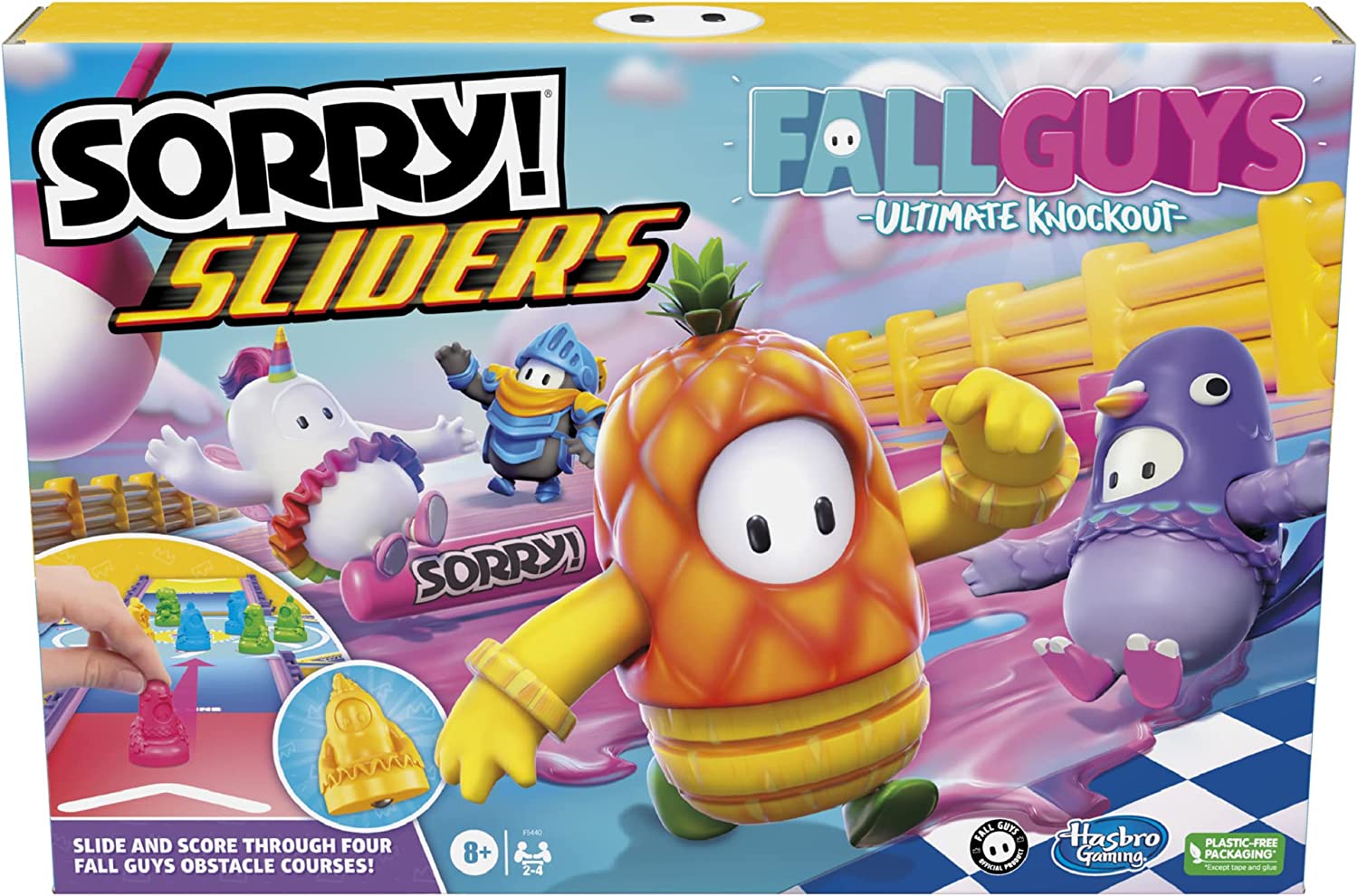 Players: 2 to 4 | Game duration from: 15 mins | Game Complexity: EASY
In the Sorry Sliders Fall Guys Ultimate Knockout , players slide their pawns through Fall Guys obstacle courses
4 COMPETITIVE GAME MODES:
Rearrange the units and boards to play four different ways. Compete in Dizzy Heights, Slime Climb, Whirlygig and Hex-a-Gone
SLIDE ROLLER PAWNS DOWN THE TRACK
With Fall Guys, each player gets four gliding roller pawns. Avoid getting knocked over or sliding off the board by bumping opponents out of the way
GAME FOR FAMILY GAME NIGHT:
It is a race to see who can get the most points on each turn and take home the crown. The player who wins the crown token in the most rounds wins
FUN BOARD GAME FOR KIDS
A score tracker and colored scoring pawns make it easy for kids to keep track of their scores.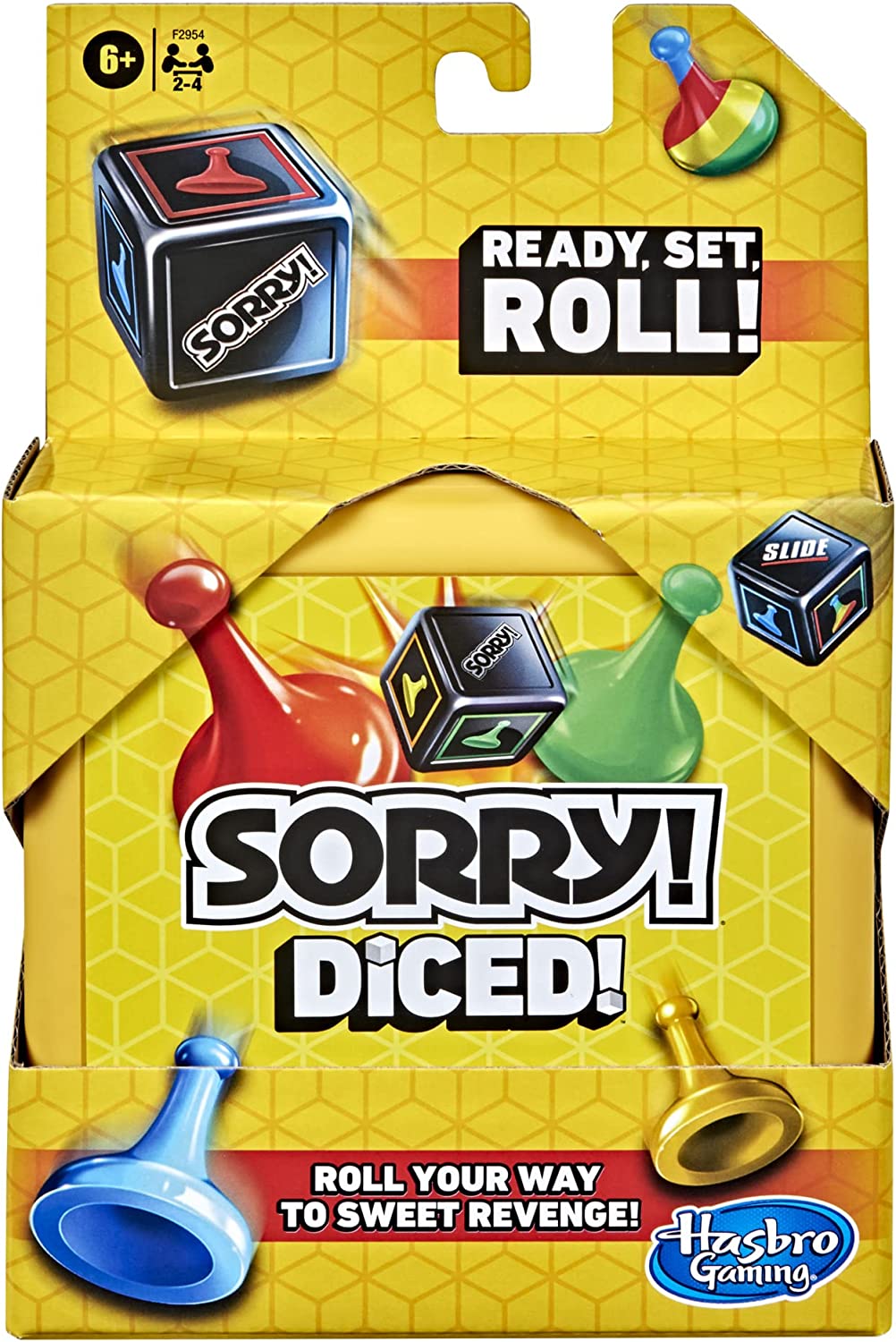 Players: to | Game duration from: 15 mins | Game Complexity: EASY
Let's roll! Sorry! played differently!  This edition replaces the gameboard with individual player bases, and players roll the dice to win! Three dice are used to determine a player's luck as they try to get all their pawns on their Home wedge. 
Sorry! Diced makes a great game for travel and on-the-go play. In under 20 minutes, your kids can play it if they want a quick game.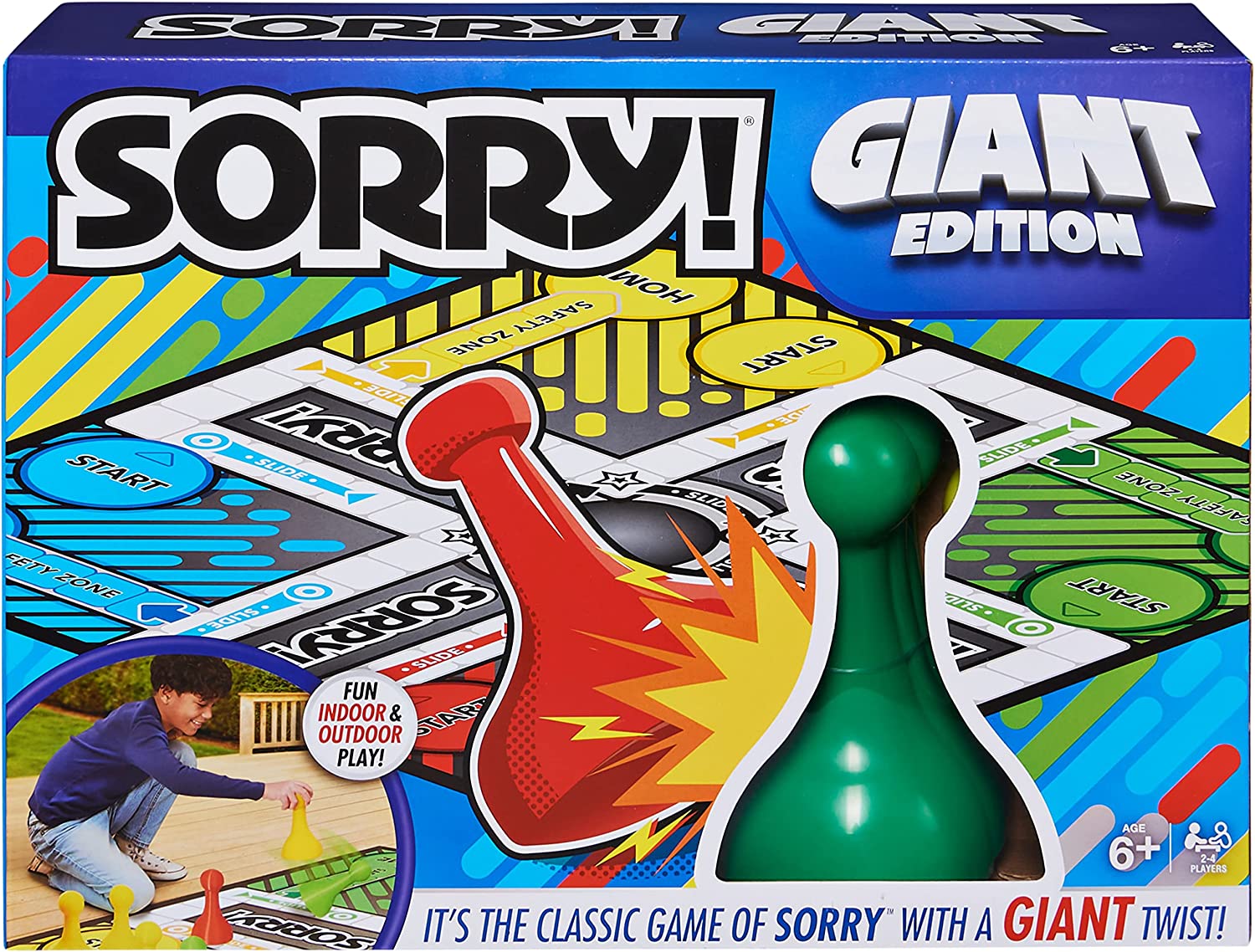 Players: 2 to 3 | Game duration from: 24 mins | Game Complexity: EASY
A giant twist on the classic game of Sorry! Place your 3 giant pawns on your corner of the 64" x 64" vinyl mat gameboard. Start by spinning the spinner to move your pawns out of the starting area. If they are lucky, players slide forward on Slider spaces if they are lucky, otherwise they are knocked back to Start. Win by getting your 3 pawns to Home first! SORRY! GIANT EDITION's large vinyl mat is at home on your living room floor, or take it outside to take the competition outdoors! It's easy to play, yet it's loaded with suspense, strategy, and a little bit of luck.
Sorry Giant Edition is great for parties. It's large pieces make it an interactive experience.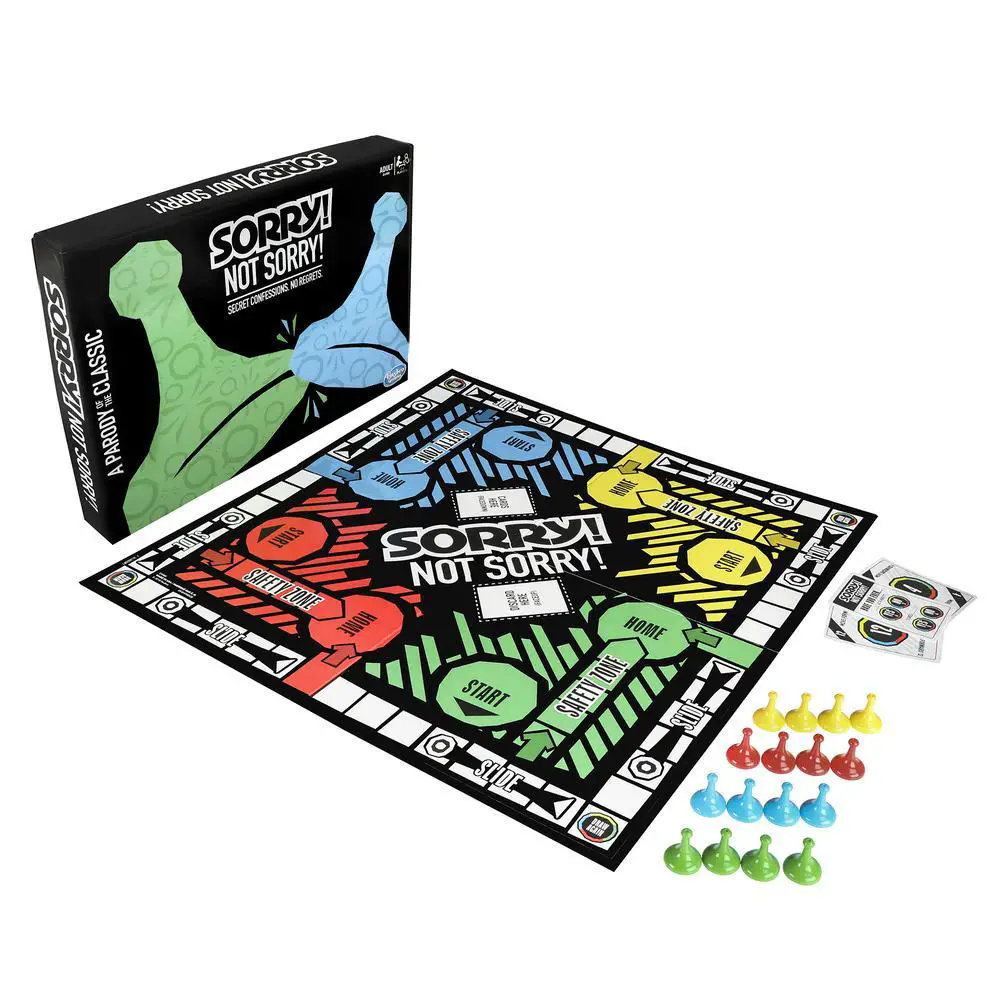 Players: 2 to 6 | Game duration from: 15 mins | Game Complexity: EASY Sorry! Not Sorry! rules pdf / rulebook
With this adult party version of Sorry! there are no regrets! In the Sorry! Not Sorry! game, you move your pawn around the board to try to get three pawns on the Home space. There's just one problem! With Not Sorry!, you can sabotage your friends, steal their pawns, and steal their pawns! Using cards, they reveal wild "have you ever" secrets. Change things up on game night with the Sorry! Not Sorry! board game.
THE CLASSIC SORRY WITH AN ADULT TWIST!
Played the Sorry! game as a child? This is a funny adult twist on classic Sorry! gameplay
Based on the classic Sorry! To win, players must get 3 pawns of any color into home by moving, jumping, and sliding their pawns around the board
Pick a Not Sorry! card and ask a player one of the "have you ever" questions. Complete the question by filling in the blanks. They lose their next turn if they refuse to answer
To win the game, will you confess? If you answer "yes" to one of the "have you ever" questions, you will move forward more spaces than if you answer "no".