Various versions of the Codenames Game have been released. This award-winning and popular party game have resulted in editions covering the Marvel Universe, Disney characters, and even the Simpsons! So which Codenames versions should you play? Let's find out.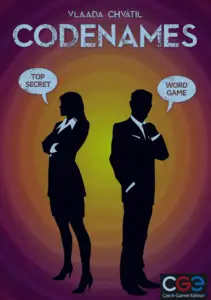 The original Codenames version!
Players: 2 to 8 | Game duration from: 10 mins | Game Complexity:

Play Codenames online
Players split into 2 teams, with each team assigning a Spymaster There are 25 codenames (words) on the table The Spymasters of each team know the identity of the agents hiding behind the codenames Spymasters must guide each team to guess the codenames of their team's agents by providing a clue to them Teams use the clue to guess the right codenames related to their team's agents Be careful, choose the Assasin agent and you lose The winning team is the team that uncovers the identities of all its agents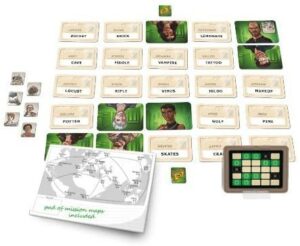 Players: 2 to 2 | Game duration from: 15 mins | Game Complexity:

Top Secret Co-Op Locate your agents before time runs out! This standalone co-op game takes you and your partner on a top secret mission to a crowded city based on the original party game hit. Your mission? Avoid a band of assassins while contacting 15 agents. You know the agents your partner can reach safely; they know the agents you can reach safely. Your goal is to find all the agents before your turns run out using one-word clues that point to multiple words on the board.
A brilliant 2 player game. You probably know how Codenames works, but this version is only for two players. The players must take turns giving clues to locate an agent. Make a mistake, and you may hook up with an innocent bystander, or worse, an assassin, thereby ending the game.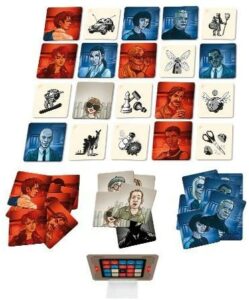 In the original Codenames, agents are represented by a single word. In Codenames Pictures, agents are represented by pictures.
Players: 2 to 8 | Game duration from: 10 mins | Game Complexity:

What are these strange symbols on the map? They're codes for secret contact locations! Two rival spymasters know the agents in each place. The field operatives are told where to meet in coded messages. It's a tricky job. You may encounter an assassin or enemy agent if you make a decoding mistake. In a race to contact all their agents, only one team wins.
What is the difference between Codenames Pictures and Codenames?
Codenames: Pictures is different from the original Codenames in that the agents are no longer represented by a single word, but by an image that contains multiple elements.
Codenames Pictures is basically the same game, but with fewer cards in play, all while making the game more complex and speeding it up. Several people find the game to be easier to play with pictures rather than words. Four or more people can play the game comfortably; however, larger groups add more fun and energy to the game.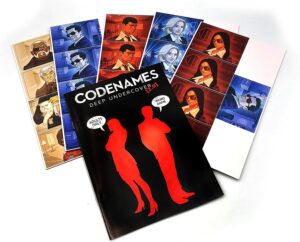 Players: 4 to 8 | Game duration from: 15 mins | Game Complexity:

The 18+ version of Codenames. Give your teammates clues that will enable them to decode your code before the other team does
The best adult board game for parties.
This and the original are super fun party games with inside jokes and bloopers. Warning: This is an adult version, so every word is crude. We recommend the original game if that's not for you, as it doesn't have any dirty words, but it's just as funny and has the same strategy.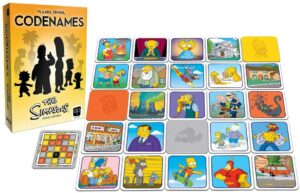 Players: 2 to 8 | Game duration from: 15 mins | Game Complexity:

Play this Simpsons themed game featuring your favorite characters - perfect for family game night and group activities.
The Simpsons version of the Codenames board game allows you to find hidden agents among Simpson characters and references from Simpsons episodes.
Two teams compete to identify all of their Springfield Cards from 25 displayed in a 5 x 5 grid. Teams have a Cluemaster (who knows the location of each Springfield Card their team is trying to find) to give clues in code words indicating where the cards are hidden. Watch out! Decipher a code incorrectly and you might help the other team! Your team has to identify all the cards first!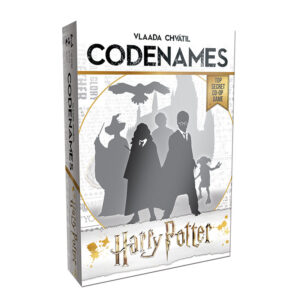 Players: 2 to 2 | Game duration from: 15 mins | Game Complexity:

No products found.
You must pass secret information to other members of the Order of the Phoenix in Diagon Alley. Each operative knows the locations of nine members they must contact. By using coded messages, they sneak past Death Eaters to complete their mission before time runs out.
Play Codenames: Harry Potter cooperatively with two or more players. With a Key card, you get 9 Code cards to give clues for and 3 cards your partner must avoid. Although a clue is only one word, it can be used to point to multiple cards that you want your partner to guess. Your partner will also give you clues on the cards you have to find. If both of you find all the cards before time runs out, you win.
un game! This game can be played by all ages and the level of difficulty depends on the players.
Additionally, one has to think outside the box, think critically, and consider all options. This is a lot of fun, and it can be played over and over again. Your teammate and you can make the one word clues more elaborate the more you know about Harry Potter! It's a challenge to link all five cards with one word! Lots of fun!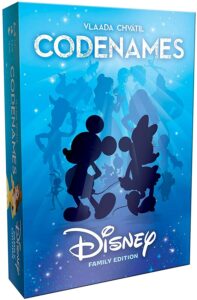 Players: 2 to 8 | Game duration from: 15 mins | Game Complexity:

Each team tries to identify all of their team's Disney Treasure Cards from 16 cards displayed in a 4 x 4 grid.
Each team has a Cluemaster (who knows where each Treasure Card is located) to give clues in the form of code words telling their teammates where the cards can be found. Take care! Make a mistake in a code and you might help the other team! The first team to recognize all the cards wins!
We played the Disney Code Names with adults, 10 year olds, and a 5-year-old and it was great for our group. Some of the cards are 5 x 5 and some are 4 x 4. This makes the game shorter and easier. It also has pictures on one side and words on the other, which makes it easier.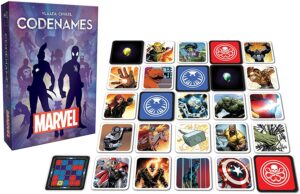 Players: 2 to 8 | Game duration from: 15 mins | Game Complexity:

The #1 party game combines with Marvel Comics. Game includes both pictures and words. Easy to learn and perfect for Marvel fans.
Inspired by the popular social party game Codenames.
In a 5 * 5 grid, two teams are competing to identify their team's Marvel Asset Cards first.
Team Directors (who know where the Asset cards are located) provide clues in the form of code words telling their Agents where to find the Asset cards. 
Take care! You could help the other team if you decipher a code wrong! Your team must identify all the cards first!
When it comes to a game you can play quickly at family gatherings, because it has easy rules, it plays fast, and it is a team game that doesn't require artistic talent. It is easy to jump from one version to another once you have played one (and there will be a lot more) without a long read of the rules.
The Marvel movies are, of course, a specific version, but since they are also popular, it's not too hard for the team to work, and if there are die-hard Marvel fans mixed in with casual ones, it can create some humorous interactions.