Halloween is great for trick or treating and also for family or friends to explore horror board games! We take a look at the best horror board games to fill your spooky Halloween night.
Not too scary! Kid friendly Horror Board Games
Not all ghosts are that terrifying. We have the friendly and there are also spooky ghosts. Disney Haunted Mansion Call of the Spirits is one of the horror table top games that is suitable for family with young children.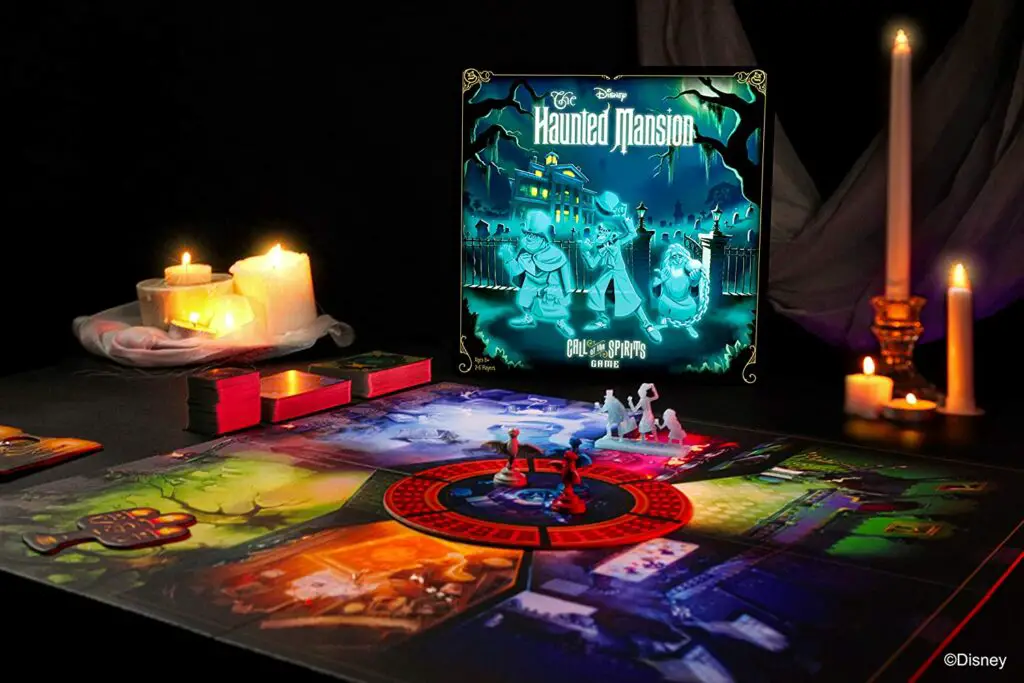 Players: 2 to 6 | Game duration from: 30 mins | Game Complexity: EASY

Gain points by collecting matching sets of ghost cards from the Happy Haunts.
From the Ballroom to the Attic to the Graveyard and beyond, explore all the classic rooms of the ghost-infested manor.
You should beware of the Hitchhiking Ghosts, which are notorious for "following you home"!
Rotate the Endless Hallway around Madame Leota's Séance Room and collect Ghost cards, each worth a different amount of points.
Avoid Haunt cards to avoid losing points.
A simple and fun family game for ages 9 and above. The detail from the box to the art on the cards are phenomenal! As a filler game for gamers' game nights, I consider it to be on the upper end of the "light game" category. The decisions are interesting, but not too taxing to lead to analysis paralysis. In addition, there are multiple paths to victory.
---
Band together and defeat the evil spirits
The spirits and monsters are here. Band together as a team to defeat them. The following are still horror-based but not as scary. Just spooky.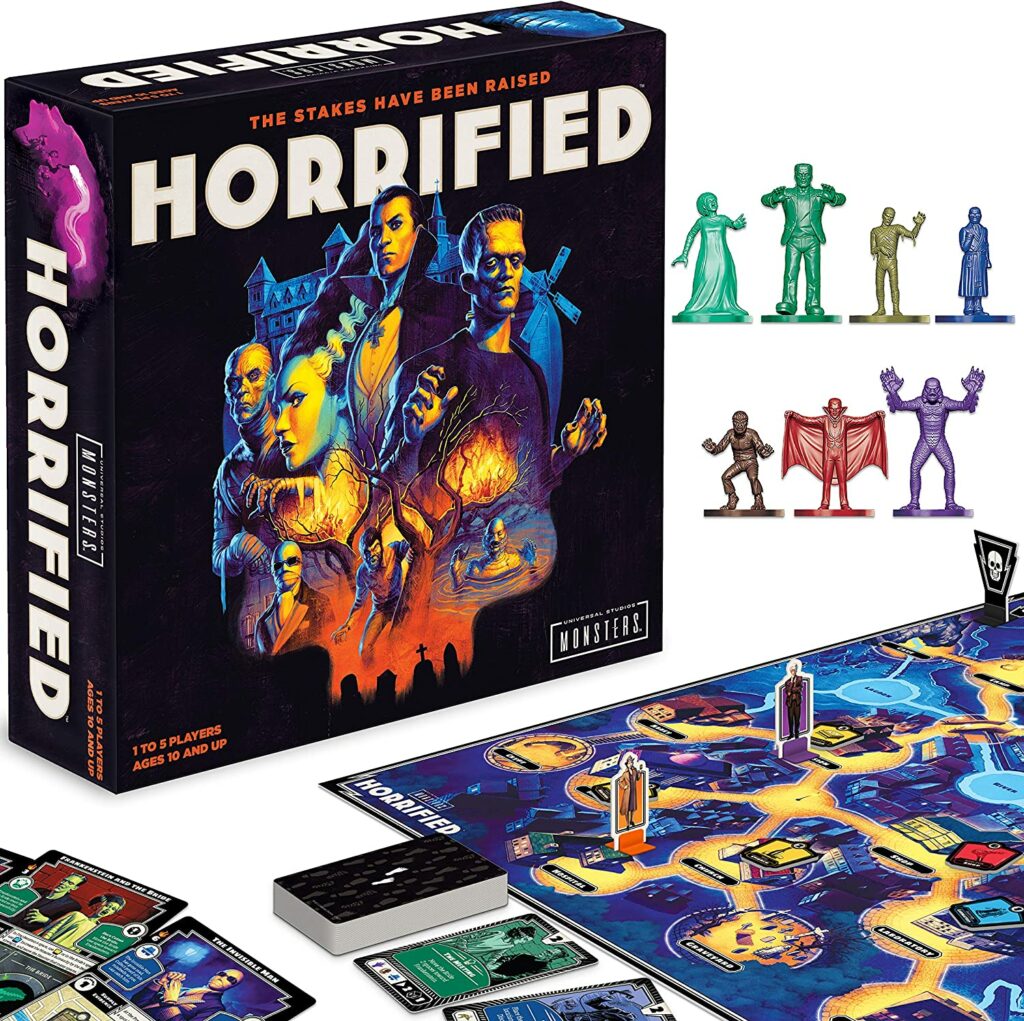 Players: 1 to 5 | Game duration from: 55 mins | Game Complexity: EASY

The stakes have been raised. Imagine living in a place so wretched that it's not plagued by one, two, or even three monsters — but seven of the most horrifying fiends!
In this game, you'll come face to face with them all as you work together to rid the town of the maniacal or misunderstood creatures…before it's too late.
Horrified includes high-quality sculpted miniatures (Frankenstein, The Bride of Frankenstein, The Wolf Man, Dracula, The Mummy, The Invisible Man, Creature from the Black Lagoon). Its innovative, easy-to-learn, cooperative gameplay has players working together against the monsters with varying levels of difficulty. Just as each monster is unique, they require different strategies and tactics to be defeated.
---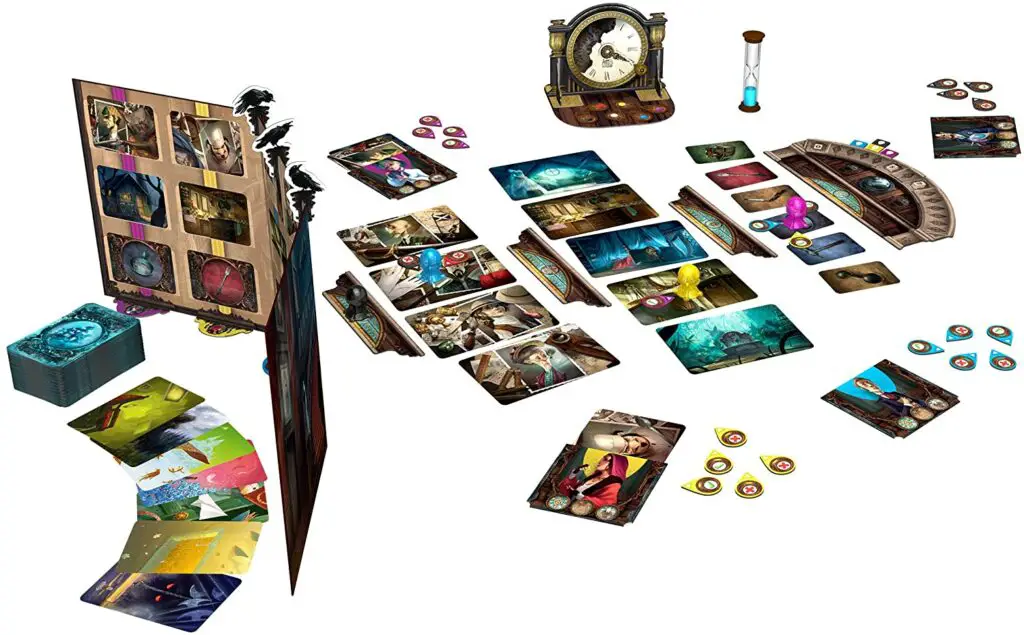 Players: 2 to 7 | Game duration from: 40 mins | Game Complexity: EASY

The Warwick Manor Was The Scene Of A Horrible Crime Thirty Years Ago. The Ghost Of The Murdered Servant Haunts The Mansion, And A Group Of Psychic Investigators Must Solve The Mystery
A cooperative board game in which one player assumes the role of the victim (now a ghost) and the other players take the role of psychics. Players Psychically Communicate with the victim to solve a mystery throughout the game. Psychics are led to the correct culprit by the ghost
Interpret Visions To Solve Mysteries
To determine who the actual murderer is,  players investigate a case assigned to them. Ghosts give psychics clues. Can they find the killer, weapon, and location, Or will an evil criminal complete the perfect murder?
High Variability
No two games are alike with dozens of suspects, weapons, and locations! Need a new challenge? There are expansion sets available (base game required)
---
Take horror to the next level
The next couple of games take horror to the next level. Fight evil demons and spirits. The games are complex and involve deep storylines.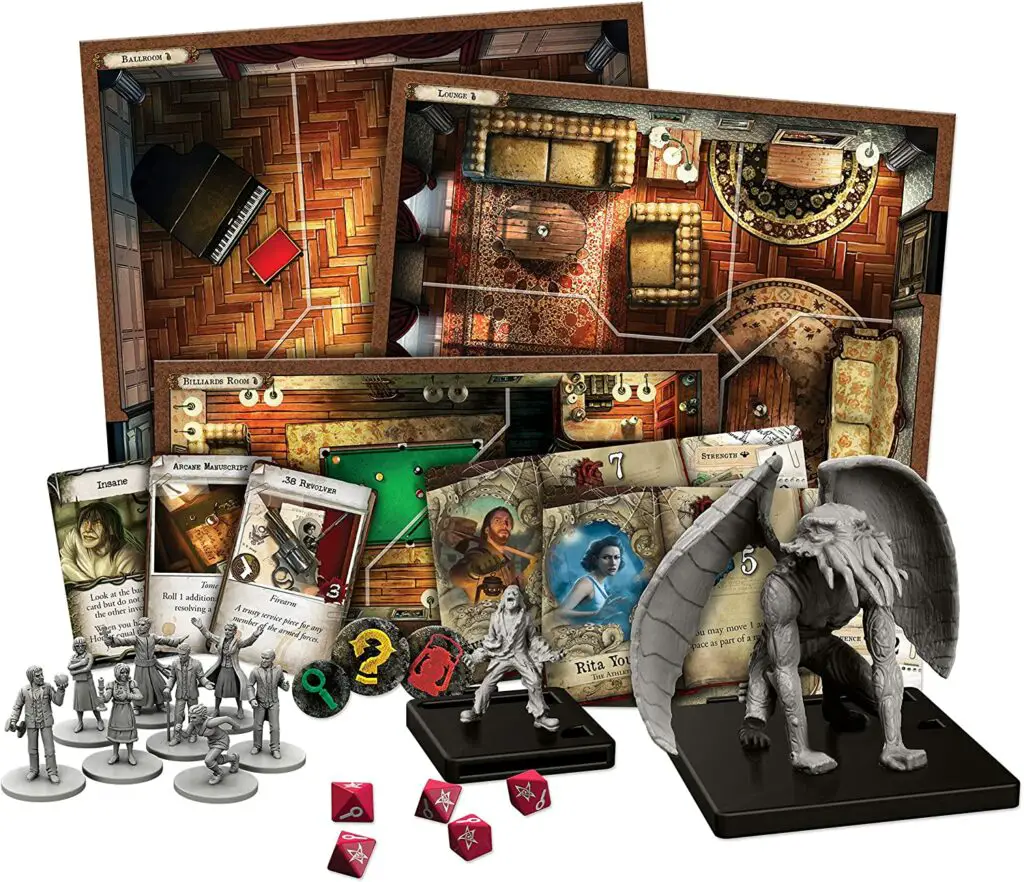 Players: 1 to 5 | Game duration from: 120 mins | Game Complexity: MEDIUM

Mansions of Madness is a cooperative horror game inspired by the writings of H. P. Lovecraft. A mystery is unraveled by one to five players during each game. With a companion app that integrates seamlessly with the game, players must work together to overcome challenges.
The game Mansions of Madness is cooperative. Every player is on the same team and wins or loses together. To solve the mystery, the investigators must explore the map and piece together evidence and clues from the scenario. Furthermore, investigators need to befriend non-player characters, fend off horrible creatures, and solve puzzles along the way.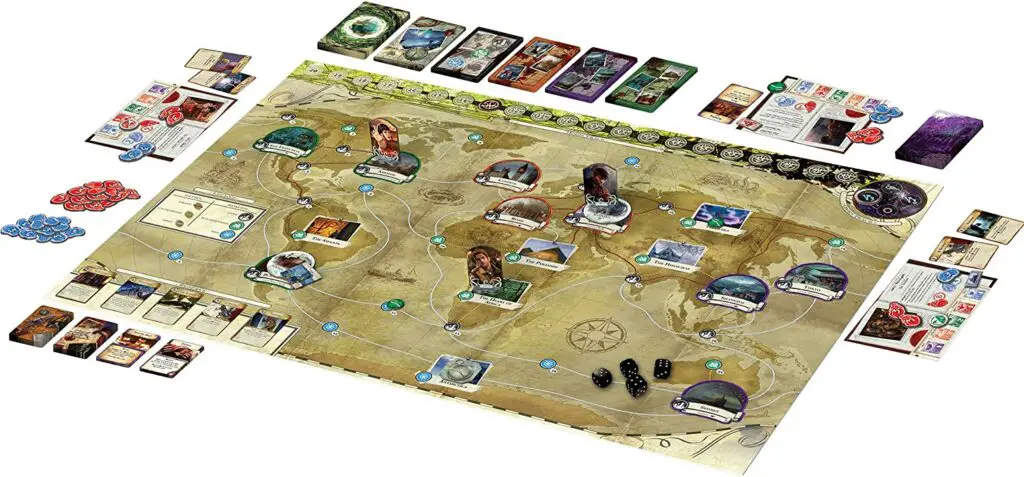 Players: 1 to 8 | Game duration from: 120 mins | Game Complexity: MEDIUM

THRILLING GAME OF TERROR AND ADVENTURE: Ancient evil is stirring across the globe. You and your trusted circle of colleagues must travel around the world, working against all odds to hold back the approaching horror. The end draws near! Do you have the courage to prevent global destruction?
SCARY STRATEGY GAME: Defeat foul monsters, travel to Other Worlds and solve obscure mysteries surrounding this unspeakable horror. The effort may drain your sanity and cripple your body, but if you fail, the Ancient One will awaken and rain doom upon the known world.
COOPERATIVE MYSTERY GAME: Brave investigators team up to pit their skills and weapons against the threat of the Ancient One. Together they explore the remote corners of the globe, fight the nightmarish creatures that lurk in the shadows and solve the ancient mysteries of this Eldritch Horror!
HIGHLY VARIABLE: Eldritch Horror is based on the fiction of H.P. Lovecraft and inspired by the classic Arkham Horror board game. With four different Ancient Ones, twelve investigators, numerous monsters, and hundreds of possible encounters, every game provides a unique and epic adventure.
NUMBER OF PLAYERS AND AVERAGE PLAYTIME: The Eldritch Horror Board Game collection of scary games for game night is designed for 1 to 8 players and is suitable for ages 14 and older. Average game time is approximately 2 to 4 hours.
---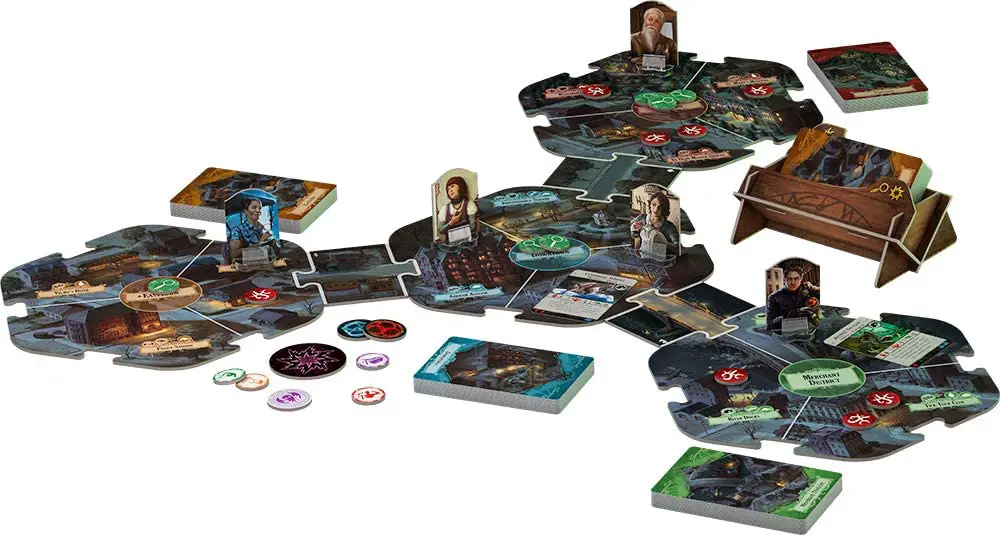 Players: 1 to 6 | Game duration from: 120 mins | Game Complexity: MEDIUM

The city of Arkham is threatened by terrifying creatures from beyond space and time. It's up to the players to team up and stop the approaching doom. The ancient evils will rise up and destroy not just Arkham, but the whole world if left unchecked.
The Arkham Horror game is cooperative. It's a team game and all players win or lose together. In this game, each player controls an intrepid investigator who's become aware of the growing threat. In the city, the investigators encounter mundane and supernatural places, people, and creatures. Ultimately, they hope to thwart the Ancient Ones through these adventures by gaining clues and resources.
The game is pretty lengthy. If you are only playing 1-2 player or 2 handed solo, the game is about 2 hours not counting set up or take down. 4 to 6 players are about a 3 to 4 hour session.
Game is pretty deep and complex and takes a while to set up but it is fun and entertaining if you have the time.
---
Players: 3 to 6 | Game duration from: 50 mins | Game Complexity: MEDIUM

In the House on the Hill, fearless explorers have been drawn to discover the house's dark secrets. You'll take on the role of one of those explorers in this narrative-driven gameplay experience. You'll be frightened to death by the 50 chilling haunts and dozens of danger-filled rooms in Betrayal at House on the Hill 3rd Edition cooperative board game. You will work together at first, but beware...one explorer will betray the others, and then the haunt begins. In this edition of the popular haunted house traitor game, new players can jump right in with gameplay elements and content. This immersive, story-driven hidden traitor game for 3-6 players, ages 12 and up, combines monsters, miniatures, and modular board pieces. This is an amazing game, but there VERY steep learning curve. If you are not used to playing game with a ton of set up and rules, it might take a bit to enjoy. Once you get the hang of it, it's great. The 3rd edition's rules are much more streamlined and easier to understand. Artwork and colour on the pieces has improved. Miniatures, unfortunately are unpainted.
---
Some Light Hearted Adult Horror Board Games
Finally, something light hearted. It's Halloween and you just want to party.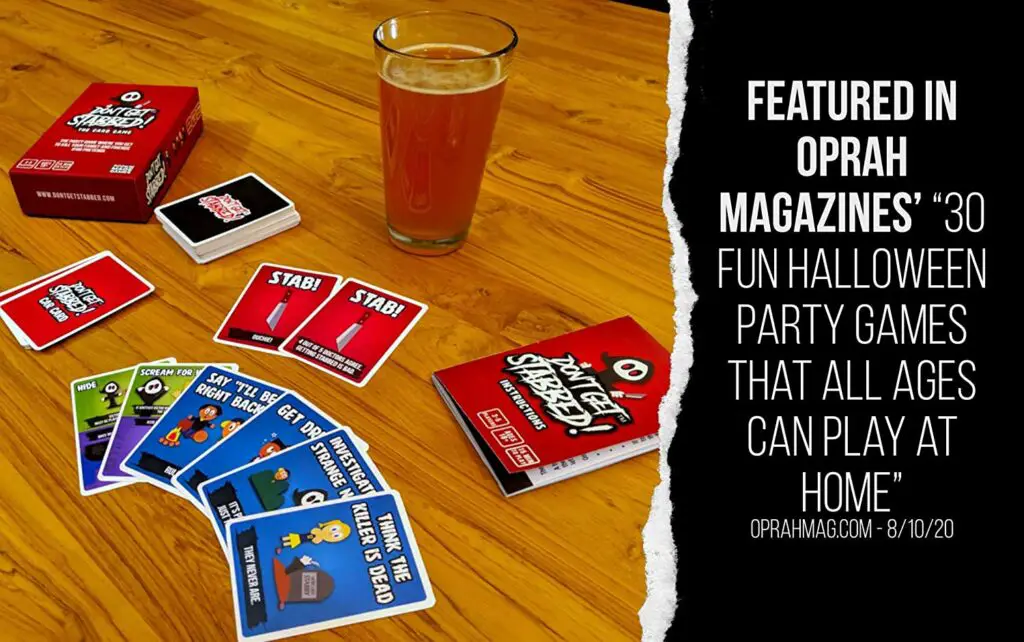 Players: 3 to 5 | Game duration from: mins | Game Complexity: EASY

Don't Get Stabbed! is a party game where you get to kill your family and friends! ... for pretend of course. It's inspired by horror movies of the 70's, 80's and 90's, but is light-hearted enough for everyone to enjoy. The ultimate Halloween game!
It can be played by 3 to 5 players. There's a killer (the most evil person in your group) and victims. When all the victims are dead, the killer wins. Victims win by escaping.
Many of these cards feature classic horror movie tropes, perfect for horror fans. The artwork and gameplay of this game are awesome.
Even though it looks cute, it's got stuff your kids probably shouldn't watch.
We take turns drawing cards. Victims who get three Stab Cards die! Action Cards can help them avoid getting stabbed. For a chance at escaping, they can use Combo Cards. The killer has special powers, though. If the killer draws a Stab Card, they can put it back anywhere they want. Killers can thwart victims' efforts to stay alive with Action and Combo Cards.
I really liked this game after the first few rounds. Initially it seemed a little boring, but once we started being more malicious with our cards, it got a lot more fun. While I was the killer, I killed my entire family, but when I was the victim, no one could kill me. A little luck, some strategy, a lot of fun.