Hosting a game night party? Drawing board games are a sure way to get everyone to interact and have fun. Get prepared for laughs as you observe the doodles and sketches of players of various drawing skill levels. In this section, we introduce some of the best drawing board games for families
If you haven't heard about Pictionary……
Pictionary is the go-to drawing board game for most families. This charades-inspired game has sold more than 35 million copies. You can't go wrong with this one!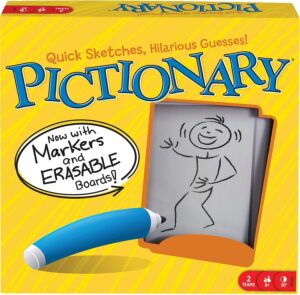 Players: 3 to 16 | Game duration from: 85 mins | Game Complexity: EASY

Playing Pictionary may remind you of Charades, but with drawing on paper instead of acting out the answers. In Pictionary, though, both teams' (or even all three teams') clue givers may be drawing at the same time as players strive to be the first to guess the correct answer. When the answer is not designated "All Play," one team simply tries to come up with the answer before the timer runs out, which is usually but not always possible thanks to the varying difficulty levels of the answers.
No great drawing talent is required; instead, players gain an edge if they have a good imagination when guessing, empathy for their team mates, and/or a general ability to communicate in restricted circumstances. A board is provided, just to keep score on, which focuses the competition. Pictionary was a big hit when it first appeared and has been a classic on the party game scene ever since.
---
Go paperless with this new version of Pictionary
Don't waste paper. Try Pictionary Air! With Pictionary Air, you don't sketch on paper. With the Pictionary electronic pen, you sketch in the air. Sketching in the air adds another element fo fun to the game
Players: 3 to 12 | Game duration from: 15 mins | Game Complexity: EASY

Draw in the Air and See it On Screen!
A fun way to play the classic family game Pictionary is with Pictionary Air.
1,000 + Clues Across Fun Categories
Put a clue card in your hand and prepare to draw in the air! It's a never-ending game of clues with over 1000 clues.
Interact with Your Sketch!
You'll have big laughs if you interact with your drawing charades-style with your teammates.
Press the Button on the Pictionary Air Pen to Start Drawing!
As you sketch, Pictionary Air tracks the light from the pen. Besides keeping score, it can also record your performances!
---
Don't let the younger kids miss out on the drawing fun with this version of Pictionary Air.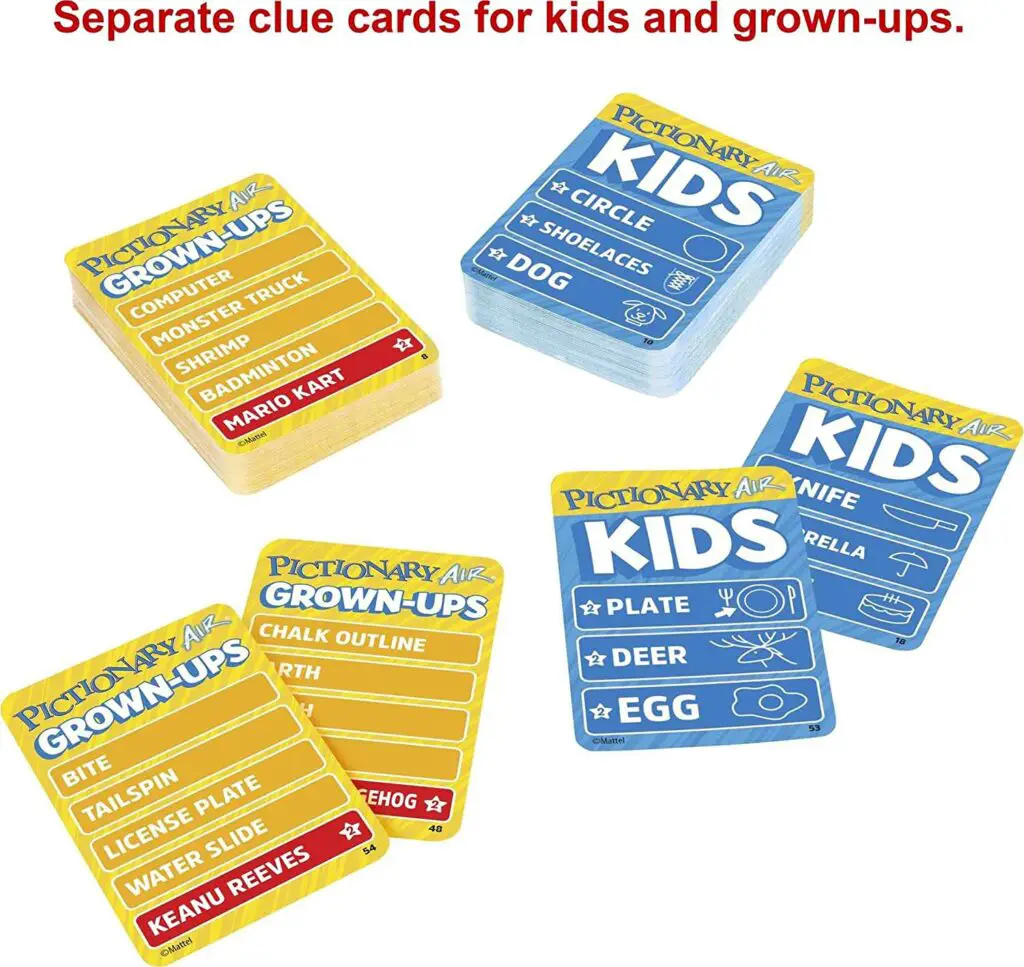 Players: 3 to 12 | Game duration from: mins | Game Complexity: EASY

Take Pictionary Air to the next level with this hilarious twist on a classic drawing game!
Using special clues that include illustrations, kids as young as 6 years old can draw in the air and see it on screen.
Using the Pictionary Air app, point the in-app camera at the illustrator, and they'll appear, along with the sketch, on the screen.
As teammates guess what the images on the screen mean, take turns drawing clues in the air. Scores are tallied and the winning team is announced!
---
Pass the message through sketches
Telestrations is a game that will leave you in stitches. You get to sketch a word and pass your sketch to the next person. The next person looks at your sketch and tries to guess the word and pass it on. Next person takes your guessed word and sketches it and passes it on and so on. By now, you should be able to see what might happen..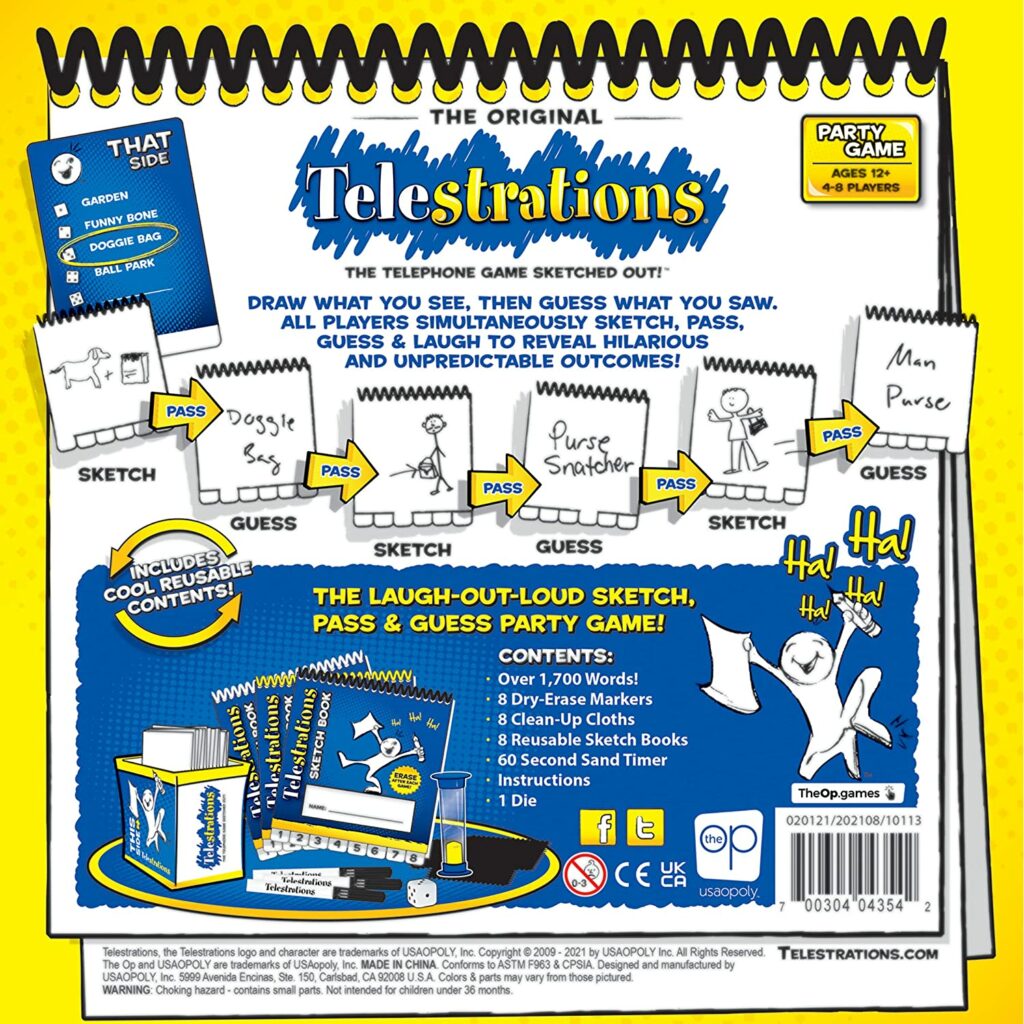 Players: 1 to 5 | Game duration from: 120 mins | Game Complexity: MEDIUM

Mansions of Madness is a cooperative horror game inspired by the writings of H. P. Lovecraft. A mystery is unraveled by one to five players during each game. With a companion app that integrates seamlessly with the game, players must work together to overcome challenges.
The game Mansions of Madness is cooperative. Every player is on the same team and wins or loses together. To solve the mystery, the investigators must explore the map and piece together evidence and clues from the scenario. Furthermore, investigators need to befriend non-player characters, fend off horrible creatures, and solve puzzles along the way.
Other Board Games with Drawing to check out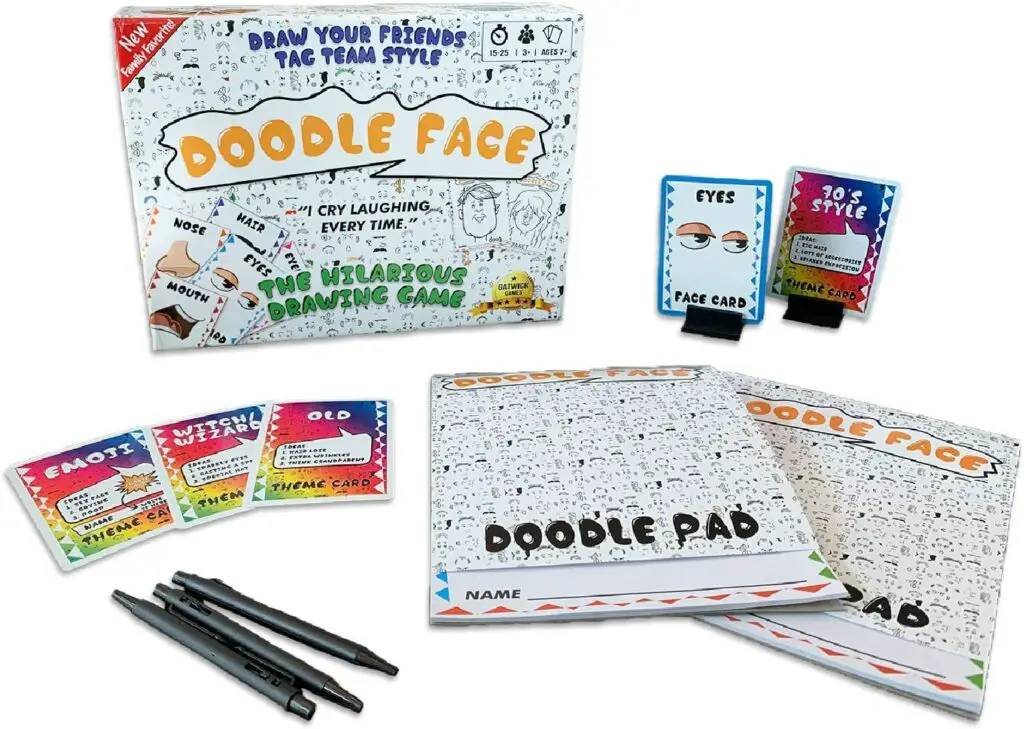 Players: 3 to | Game duration from: 15 mins | Game Complexity: EASY

A drawing game that is fun and suitable for friends and family. All ages can play it - adults, teens, and even kids! Furthermore, any level of artistic talent can enjoy it.
A card is flipped to indicate the facial feature that you need to draw. On each turn, a doodle pad is passed to you with the name of the person you need to draw. You get 30s to draw the person's features indicated by the card. When all cards have been flipped, each player gets back the doodle pad with their name on it. The art is shared and compared and everyone votes for their favourite drawing.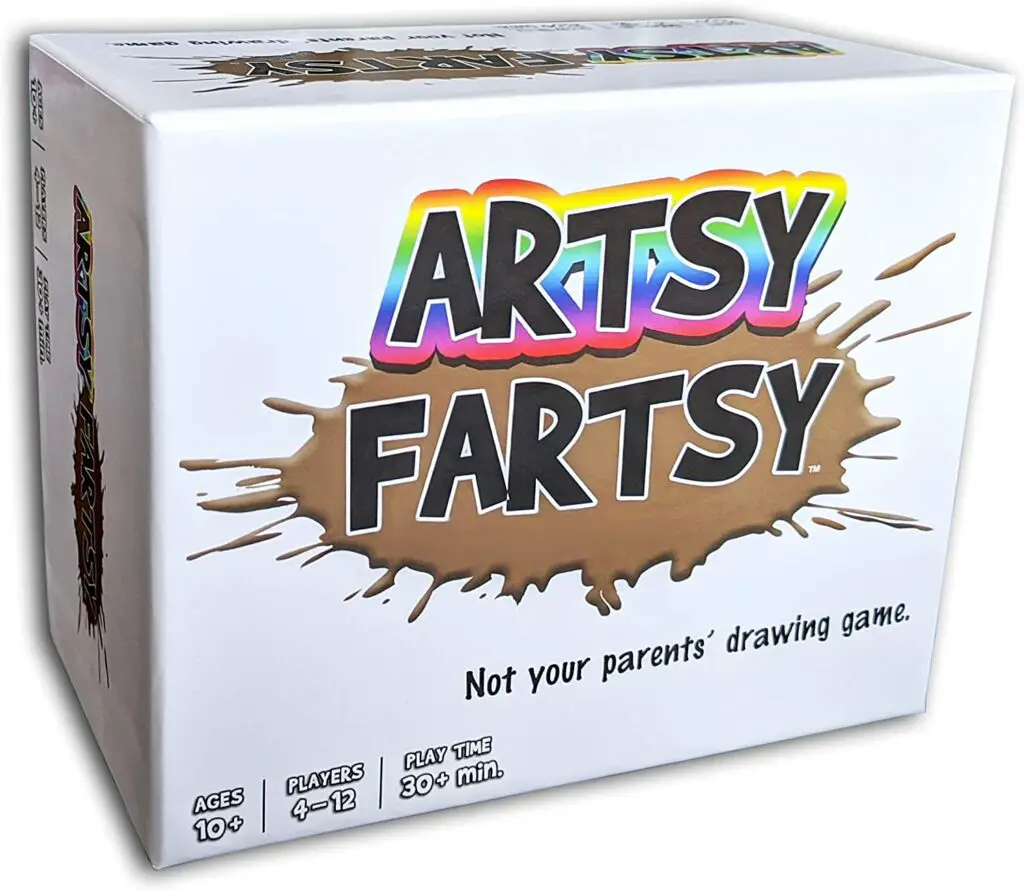 Players: 4 to 12 | Game duration from: 30 mins | Game Complexity: EASY

ARTSY FARTSY is a fast-paced game with nothing off-limits, including dragons and dog farts. Bring the whole family together to draw, guess, and steal clues that will have everyone laughing!
Assemble teams. An artist is chosen by the first team who rolls the die and takes a card to determine what to draw. The artist also shares the category at the top of the card with all players.
After flipping the timer, the artist draws a clue for their team to guess and win.
Other teams are also watching and if they have the answer, they can STEAL it and gain a point.
---
Drawing Board games for Adults
It's an adult party game night? Check out these adult drawing board games that will help break the ice.

Players: 4 to 8 | Game duration from: 20 mins | Game Complexity: EASY

It's better after dark! Telestrations After Dark is an adult-only version of the #1 LOL board game Telestrations. Create hilarious, strange, irresponsible, and plain wrong outcomes by drawing what you see. Telestrations After Dark is "adults only" and is miscommunication at its best!
Similar to Telstrations, players roll dice and get a word to draw in their sketchbook. They then pass their sketchbooks to the next player, who looks at the sketches and attempts to guess the word by writing it down. The book is then passed again and the process is repeated with the next player looking at the word and sketching it. This continues until all players get back their sketchbooks.
In this version, the words are focused on adult themes.
---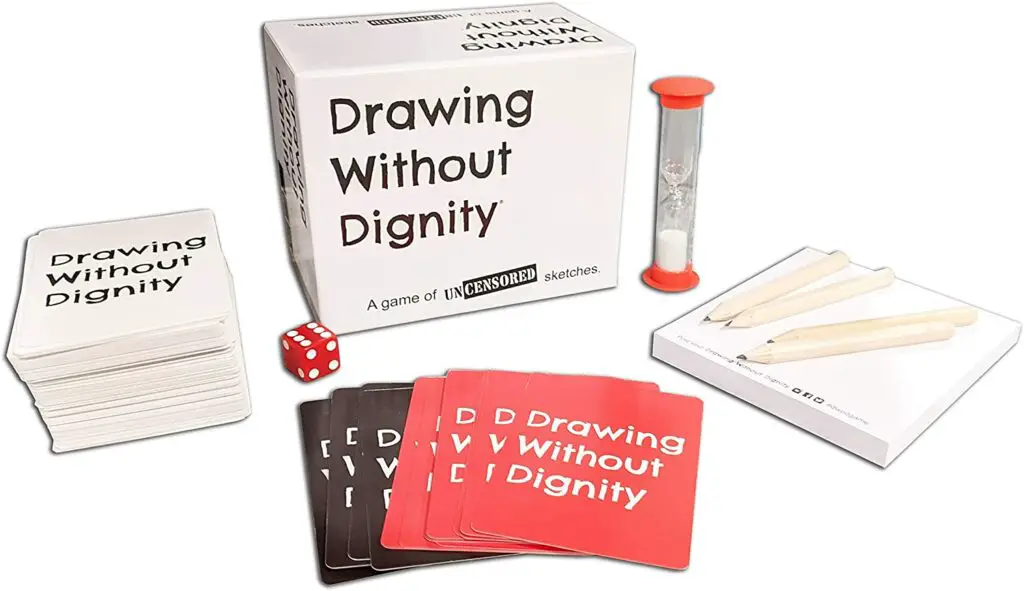 Players: 4 to 12 | Game duration from: 30 mins | Game Complexity: EASY

Perfect for game nights without kids or as a gift
Drawing and predicting sketches that would have got you kicked out of class is the goal of this Pictionary-style game.
Together, you'll draw things you've (hopefully) never even considered drawing before... questionable, over-the-line terms and slang that you wouldn't say in front of sensitive types.... or Mom.
This is not for the faint of heart or sensitive types.
Since no one draws well in 60 seconds, artistic skills are NOT required (and probably won't help). You provide solid entertainment with your awkward drawings.
In a literal sense, each clue in the game can be drawn, even if you don't understand its meaning. Occasionally, you just need to know things. If you need more information, you can check out Urban Dictionary or the Internet. Think of it as a learning experience.
Remember to clear the history of your search terms.
---