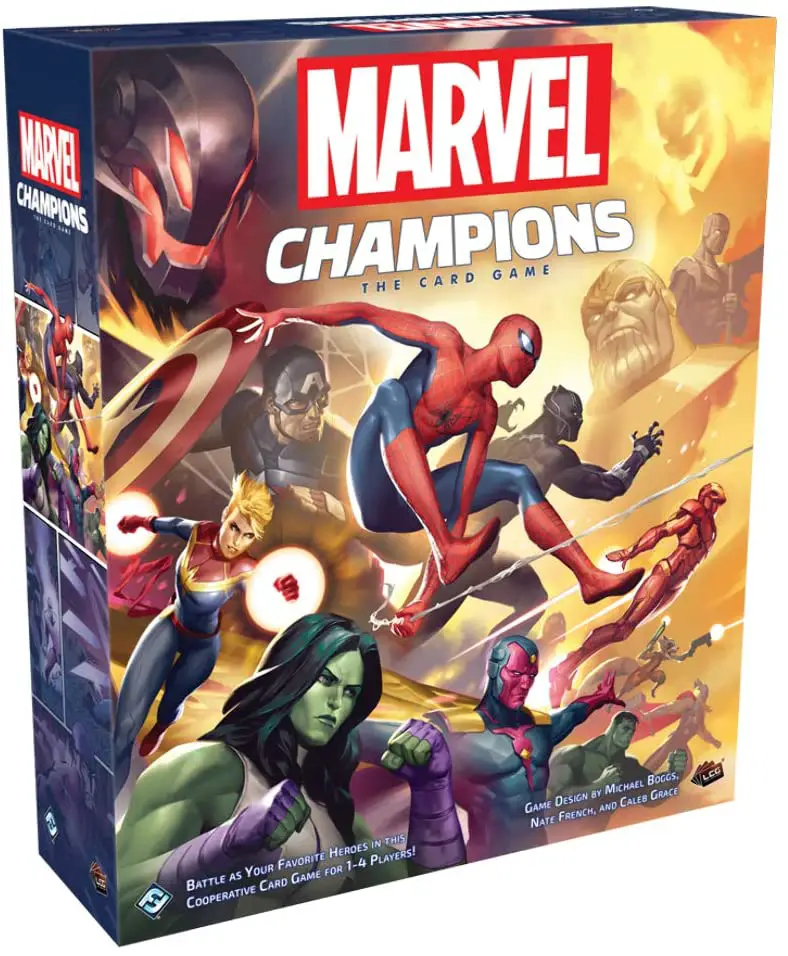 Marvel Champions: The Card Game Game Features
Players: 1 – 4 players Duration: 45 – 90 mins Min. Age:14+ Game complexity MEDIUM Genre: Card Games,Collectible Components,Comic Book / Strip Solo game mode: Yes Co-op: Yes Online Version: No
What is Marvel Champions: The Card Game about?
Marvel Champions: The Card Game is a cooperative card game for one to four players. In the game, players take on the role of a Marvel hero and their alter-ego. During the game, players work together to defeat an evil villain (controlled by the game).
Marvel Champions: The Card Game is played over a series of rounds. A player phase and a villain phase are included in each round. The players take turns in player order during the player phase.
Every turn, a player plays cards from their hand, attacks enemies, foils the villain's schemes, and using cards from their ally, support, and upgrade deck. Play moves to the villain phase after all players have taken their turns.
During the villain phase, a threat is placed on the main scheme. The villain activates once per player and either attacks the player or advances his or her scheme.
In addition, the game contains cards that add minions, treacheries, side plots, and attachments to the villain's forces and to besiege the heroes. As the villain phase ends, the first player token passes to the next player clockwise, and the next round begins.
This pattern continues until either the players or the villain win.
---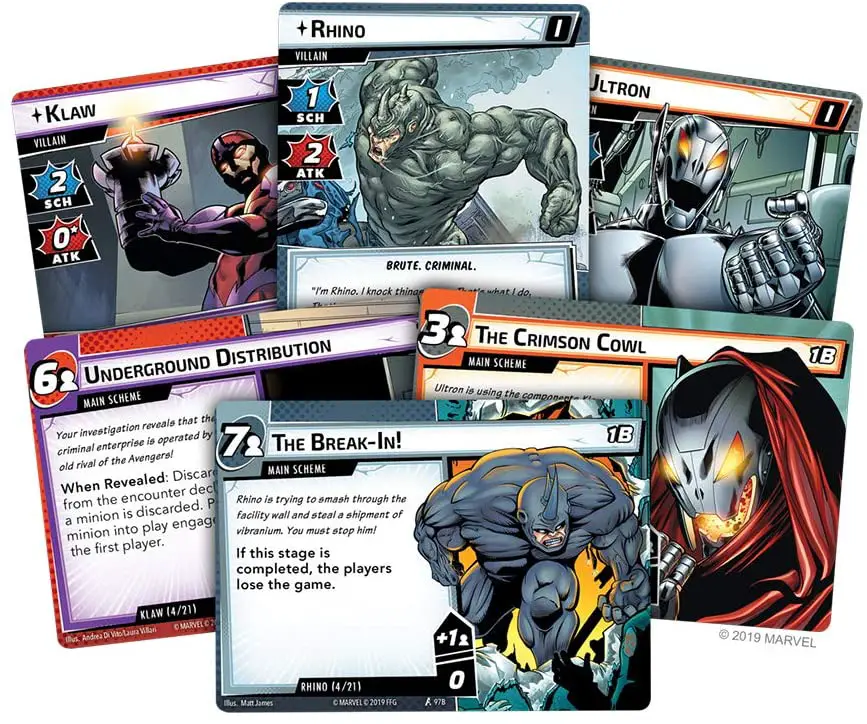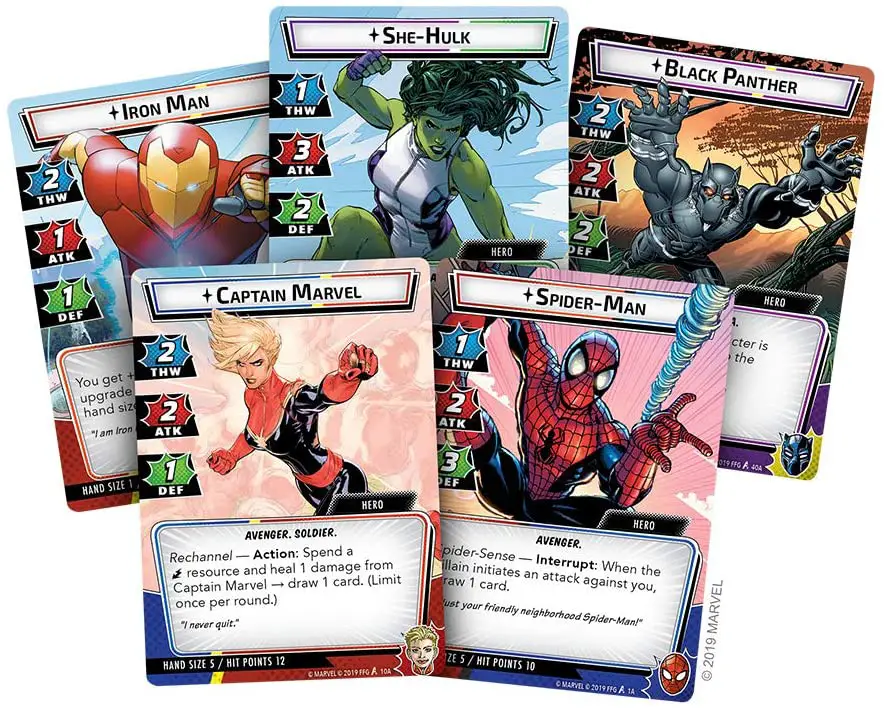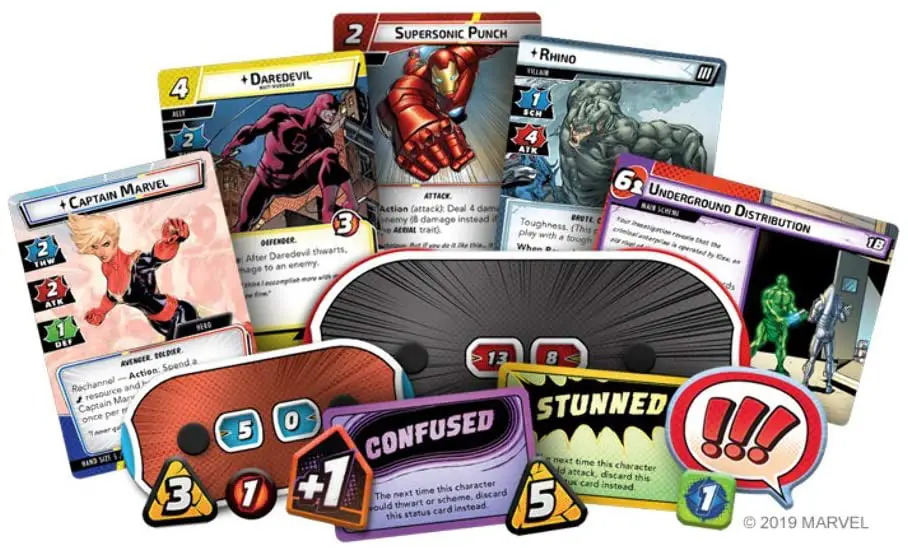 How to Play Marvel Champions: The Card Game Videos and Reviews
Marvel Champions: The Card Game Awards
020 UK Games Expo Best New Card Game (Strategic) Nominee
2019 Meeples' Choice Nominee
2019 Golden Geek Board Game of the Year Nominee
2019 Golden Geek Best Thematic Board Game Nominee
2019 Golden Geek Best Solo Board Game Nominee
2019 Golden Geek Best Cooperative Game Nominee
2019 Golden Geek Best Card Game Nominee
2019 Board Game Quest Awards Game of the Year Nominee
2019 Board Game Quest Awards Best Thematic Game Nominee
2019 Board Game Quest Awards Best Cooperative Game Winner
2019 Board Game Quest Awards Best Cooperative Game Nominee