Over the years, various Game of Life versions has been released. Here are some editions to check out. Find out how the theses game of life editions differ from the original game.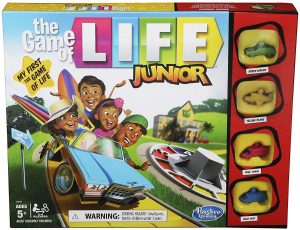 Have young kids and want to introduce them to the Game of Life?
Players: 2 to 4 | Game duration from: 15 mins | Game Complexity: EASY
The Game of Life Junior rules pdf / rulebook
INTRO TO A CLASSIC GAME OF LIFE
A fun introduction to The Game of Life. Young kids choose their own vacation adventure and make their own choices in this edition
FAMILY VACATION
Kids can choose from a car, boat, plane, or train to experience the ups and downs of a vacation
ACTION CARDS
As players draw Action cards, surprises are in store (and money is earned or lost). There might be an animal encounter, an activity, or an event along the way
FUN BOARD SPACES
With the vacation-themed gameboard, kids can imagine air balloon rides and speedboat rides. Kids can also switch their plans and visit a new location
Easy to play for evem 4-year-olds. There will be some differences, but it also goes faster (therefore a junior game). Simple to learn!
In this game it's basically whoever gets to the end first, which ends the game. Then you count your money. It's similar to Game of Life in that you can pick two routes around the board. Banks have only dollars.
You literally just need to count how many pieces of paper you received. You don't need to worry about numbers or anything. Then, at each spot, you either get a paycheck or you get an action card. The action cards contain some negatives and mostly positives. The little pieces are easy to move around. It gets the kids excited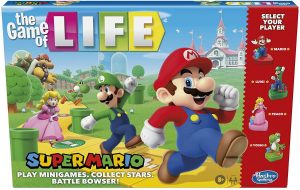 The kids will love this version of Game of Life. It is like a Mario Party board game.
Players: 2 to 4 | Game duration from: 50 mins | Game Complexity: EASY
How to play Game of Life Super Mario Edition rules in simple steps Game of Life Super Mario Edition rules pdf / rulebook
INSPIRED BY SUPER MARIO
Super Mario-inspired characters, artwork, and gameplay make this the Game of Life board game with a twist
TRAVEL THROUGH THE MUSHROOM KINGDOM
The players move around the board as Mario, Luigi, Peach, or Yoshi. As they explore the Mushroom Kingdom, they choose which areas to explore.
BATTLE BOWSER:
This game is not about money or retirement like the classic The Game of Life board game. The objective is to defeat Bowser.
MINIGAMES AND STARS
Buy stars with coins to boost your battle against Bowser. Take part in fun minigames in a face-off for prizes, and you can upgrade your items as you go
In this version, you don't have to pick a career or get married, you just run around doing minigames and using items to succeed.  Hence, don't expect it to play like a normal game of life game.
Definitely recommended for Mario fans, as it plays out a bit like Mario Party in a box! It's possible to choose which direction to move around; you can have companions/teammates; the spaces enable you to take actions, launch mini-games, or give/take coins to purchase stars; you collect or lose stars; and you challenge Bowser.
The mini-games and games of chance are also fun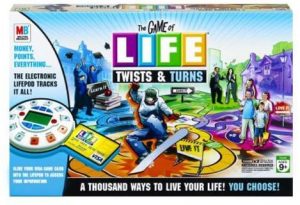 For those who are seeking a game with more complexity and depth, Game of Life Twists and Turns version is the answer.
Players: 2 to 4 | Game duration from: 60 mins | Game Complexity: EASY
The Game of Life: Twists & Turns rules pdf / rulebook
Explore all that life has to offer on the gameboard! Take a look at the four sections or focus on one. Buy a house, buy a car, start a family.. . the choices are yours. Things will happen along the way. These things can give you money or LlFE Points or they can take them away. At the end of the game, the LlFEPod will automatically convert everything you own (including cars, houses, and cash) into LlFE Points. The player with the most points wins.
Unique Features of Game of Life Twist and Turns
The general rules and purpose of this updated Game of Life are the same as the classic version, but there are a few new features you might find interesting.
Casino in Game of Life
In the "Live It" section, you can gamble money in the casino, and either lose, break-even, or double your money in the end. Extended Gameplay When on your last round, remove all of the cards and put the number 06 into the number of rounds section. This provides five additional rounds to keep playing.
Elements of Game of Life Becomes Optional
The choices that were required in the original Game of Life to move on to the next stage are now optional based on the way you spend your money and move around the board. These things can still affect your final score, and one shouldn't ignore them.
Players: 2 to 6 | Game duration from: mins | Game Complexity: EASY

It's basically The Game of Life, but with a Marvelous Mrs. Maisel twist.
This version is inspired by the Amazon series an takes players back to the 1950S new York city to experience the world of the marvelous Mrs. Maisel. It encourages players to seek fame and fortune in New York City in the 1950s. Getting married, buying a dream home, and vacationing in the Catskills. Mazel tov!
It is the goal of every player to build a successful stand-up career, regardless of their journey. Comedy is the better option than becoming a divorcee living in a crummy apartment, so comedy it is.  
Ultimately, the player with the most money wins-unless, of course, someone becomes a big name in comedy, securing the "W.".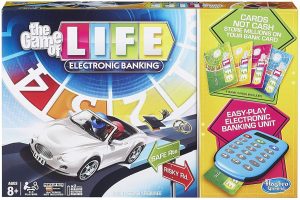 Sick of keeping track of your cards and money during the game. Game of Life Electronic Banking will make your life easier.
Players: 2 to 4 | Game duration from: 50 mins | Game Complexity: EASY
How to play Game of Life Electronic Banking rules in simple steps Game of Life Electronic Banking rules pdf / rulebook
Play the classic life and career choice game with a new electronic twist! A card-based electronic unit keeps track of everyone's funds in this electronic banking game of life. With your super-fast card swipe, you get your salary, pay the bank, and go to night school! It's the same game you know and love, just with a spouse and children in a car.