---
It is no secret that board games are popular with people of all ages. Aside from passing the time, it teaches critical thinking, problem-solving, and strategic planning. Everyone can now play board games online thanks to the internet, making them more accessible.
This post will share where to play board games online for free and the best websites.

Who doesn't want to play board games for free? You can play your favorite board games without spending money. This is especially helpful for those on a tight budget or wishes to test a game's playability before purchasing it.

Board games online multiplayer sessions allow you to find play with people from all over the globe. You no longer need to find the time when all your friends can play. You can jump into a board game online multiplayer room and start playing. Playing online exposes you to different players with different skills and can help you develop new ways of thinking and problem-solving. The flip side is you might occasionally meet a toxic player. My advice is to ignore those crazies!

List of Websites to Play Board Games Online Free
Board Game Arena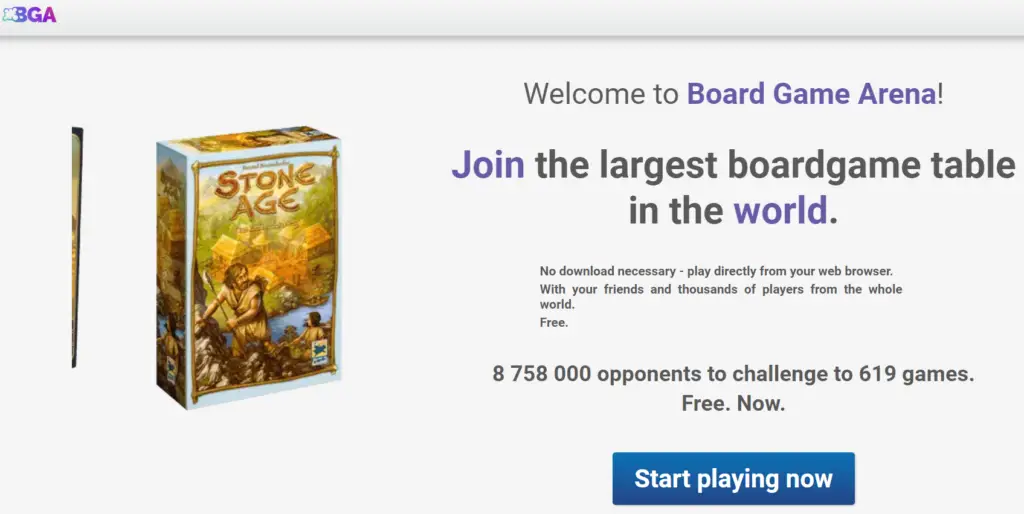 You can play board games online on Board Game Arena for free. You can play from your web browser and on all devices. Jump into a board game multiplayer room and compete against the whole world at no cost.
Simple game.
Play with anyone and choose your game options
Arena
In this mode, you challenge other players and win Arena points. Through Arena points, you get promoted to higher leagues.
Tournaments
Participate in regularly scheduled tournaments.
Choose your game type
Once you select your game mode, you can play in real-time or turn-based. For turn-based, you have several hours to play your move.
Decide how to choose opponents
You can choose to play with players on your friends' list or have your opponents chosen automatically for you.
Selection of games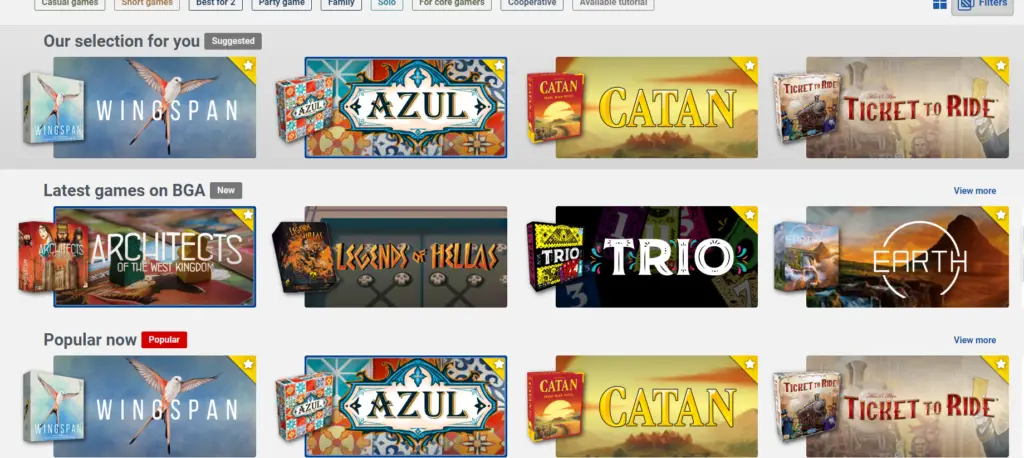 There is a huge selection of games, from old classics to the latest releases. You can view their games here.
Free vs Premium version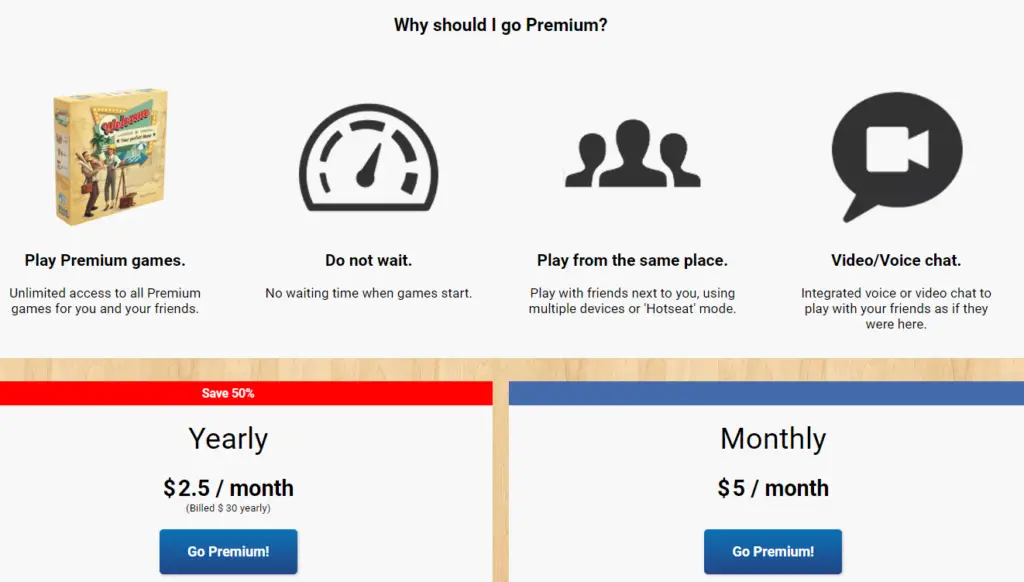 There are free games as well as premium version games.. With the premium version, you get access to premium games like Azul, Wingspan, Splendor, and more. There is no advertising screen before you start your game and you can also play with someone who is with you and sharing your same internet connection. Gain access to statistics, video, and voice chat and you have the ability to create tournaments.
---
Tabletopia

You can play board games for free on Tabletopia as well. It has a huge game library. Tabletopia works like a virtual board game table. You can view the virtual board and interact with the pieces on the board. There is no computer or AI to control the rules. You play the game just like in real life.

Workshop
Tabletopia also allows you to create your own games or modify existing ones, making it a great choice for developers and game designers.

Tabletopia can also be found on the gaming platform Steam.
Premium Versions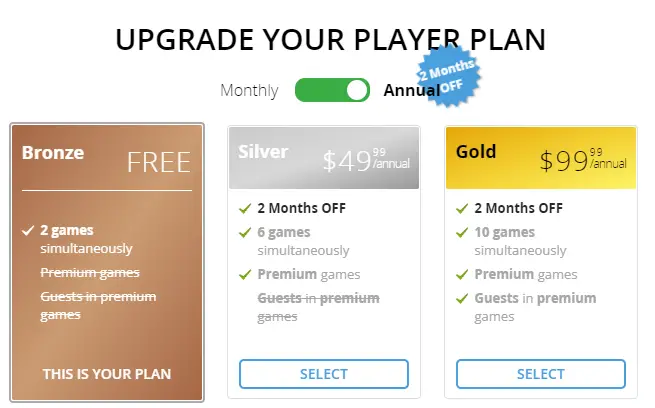 Similar to Board Game Arena, there is a free version and a premium version.
The premium version gives you access to more games.
Yucata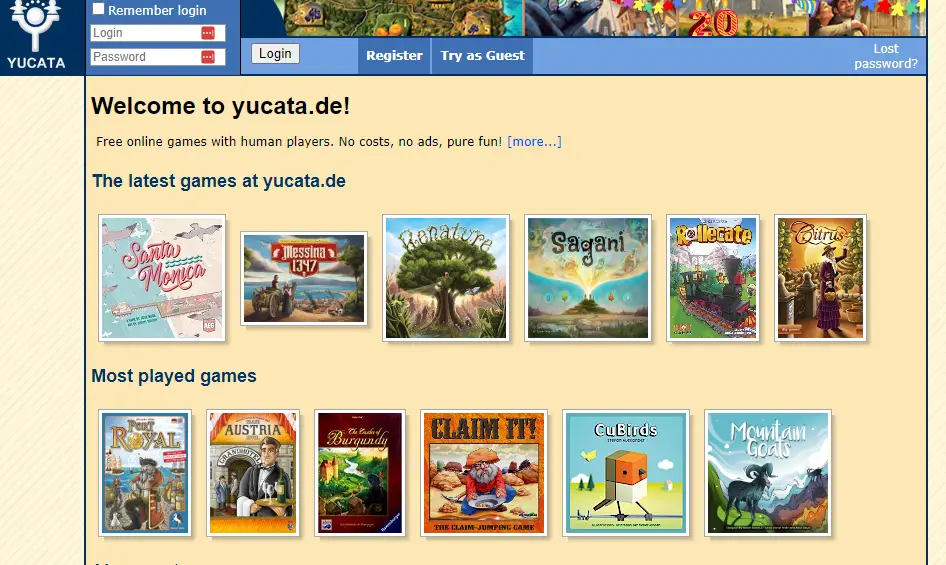 If you like strategy games, Yucata is a fun website that offers free strategy board games online. You can play with others online "LIVE" or engage in turn-based play that can be played over several days.
You start out on Yucata as a low beginner-ranked player and rank up as you play and win more games
Yucata is totally free and is developed by a board gaming hobbyist. The games library comprises more Euro-Style games.
Because it is free, the user-interface has a more simplistic look and feel.