Learn how to play Kingdomino with easy to read rules
Learn how to play Kingdomino in less than 5 minutes with our easy to read summary and visual guide of the essential Kingdomino rules. Skip the rule book and get your game started fast.
Please share on our site or guide if you find this useful! Feel free to comment and provide feedback as well.
[display-frm-data id=30043
What is the goal?
KingDomino is a 2-4 player game where you are a King who seeks to expand his land (represented by the dominoes)
Players play a series of rounds
Each round, players pick different patterns of dominoes and try to connect them in a 5 X 5 grid
Players gain points by:

planning and forming patterns and
connecting key dominoes

The player with the highest score wins
Game set-up 
Kingdomino Game setup involves the following:
Assembling your 3D castles
Setting up starting King Pieces and tiles
Setting up Dominoes Drawing pile
Assemble 3D Castles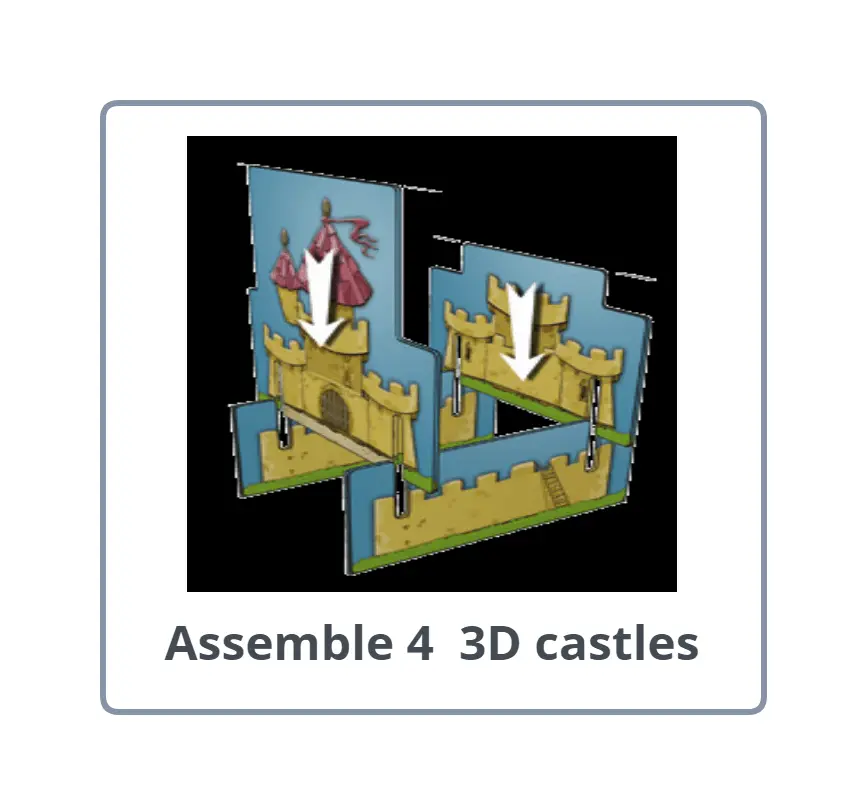 Setting up starting King Pieces and tiles

Setting up Dominoes Drawing pile
Gameplay
Overview of gameplay:
Each round involves the players doing the following:
capture a piece of land/domino to add to their kingdom
connect their new piece to their existing pieces in a 5X5 grid
players continue each round till all the dominoes have been drawn
When the rounds end, players will score their pieces based on how they have placed their land/dominoes
Starting Round
1. Take 1st 4 dominoes from the draw pile
2. Line up dominoes
Line up vertically with terrain side down
Arrange with numbers in ascending order (lowest number at the top)
Flip over to expose terrain side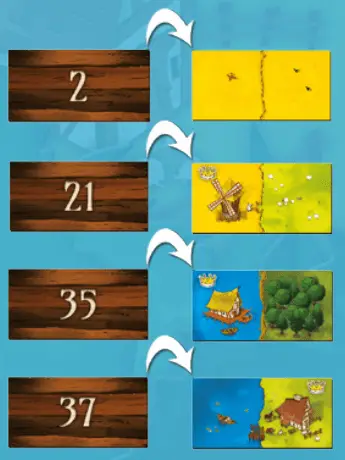 3. Players claim dominoes
One player takes all 4 different coloured king pieces in hand
Randomly pulls pieces one at a time
Each King piece pulled indicates which player claims a domino
Player claims dominoes by putting their King Piece on them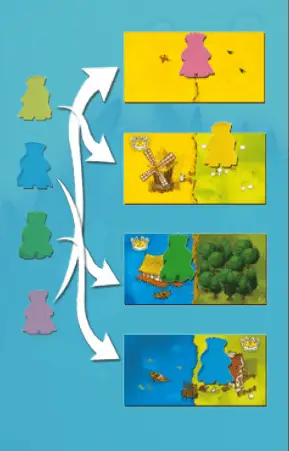 4. Select and line up 4 new dominoes
Line up vertically, terrain side down, in ascending order, next to claimed dominoes
Flip new dominoes over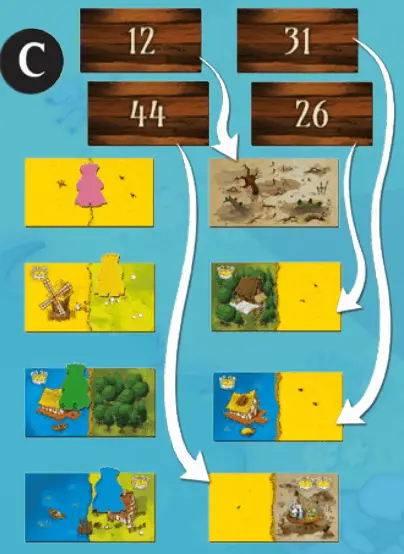 Subsequent Rounds
After the starting round, subsequent rounds involve players taking the following actions:
Add your claimed domino to your Kingdom
You choose a new domino from the next line
When all players have added their dominoes to their Kingdom, another 4 dominoes are drawn to form the next line
1. Add claimed domino to your Kingdom
5 X 5 rule
Kingdom of dominoes cannot be more than 5 X 5 squares
Same terrain
When connecting a domino to another domino, at least 2 connecting squares have the same terrain
Same terrain examples


4 sides of starting tile
Any terrain can be connected to the 4 sides of the starting tile
Dominoes that do not fulfil connection rules
If you cannot fulfil the connection rule, you need to discard the domino
If they can be placed, they must be placed
Dominoes cannot be discarded if they can be placed in the Kingdom
2. Choose new domino from the next line
Once your domino is added to your kingdom, select a domino from the next line
Place King on top of domino to claim it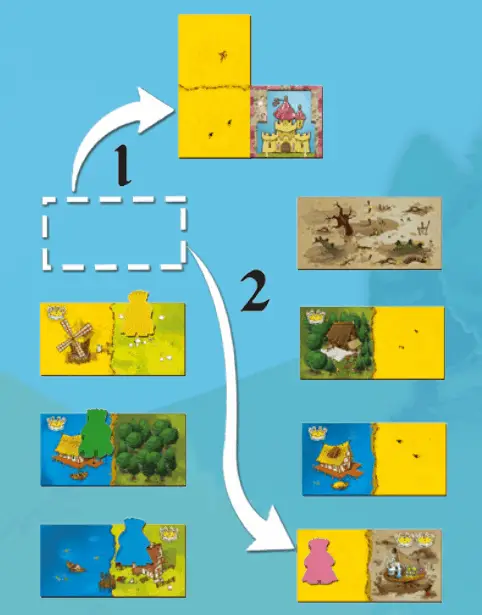 3. Draw another 4 dominoes
When all players added dominoes to their kingdom:
Line up 4 dominoes vertically again, terrain side down, in ascending order
Flip over to start a new round
Use position in the line as new playing order
How do you win?
The player with highest points wins the game.
HOW ARE POINTS SCORED?
A kingdom is composed of different PROPERTIES (groups of connected, either horizontally or vertically, squares of the same type of landscape).
Each property\'s points are determined by the NUMBER OF SQUARES multiplied with the NUMBER OF SPECIFIC CROWNS
A property without a specific crown will give you no points.
Each player will add the points,the result is their final score.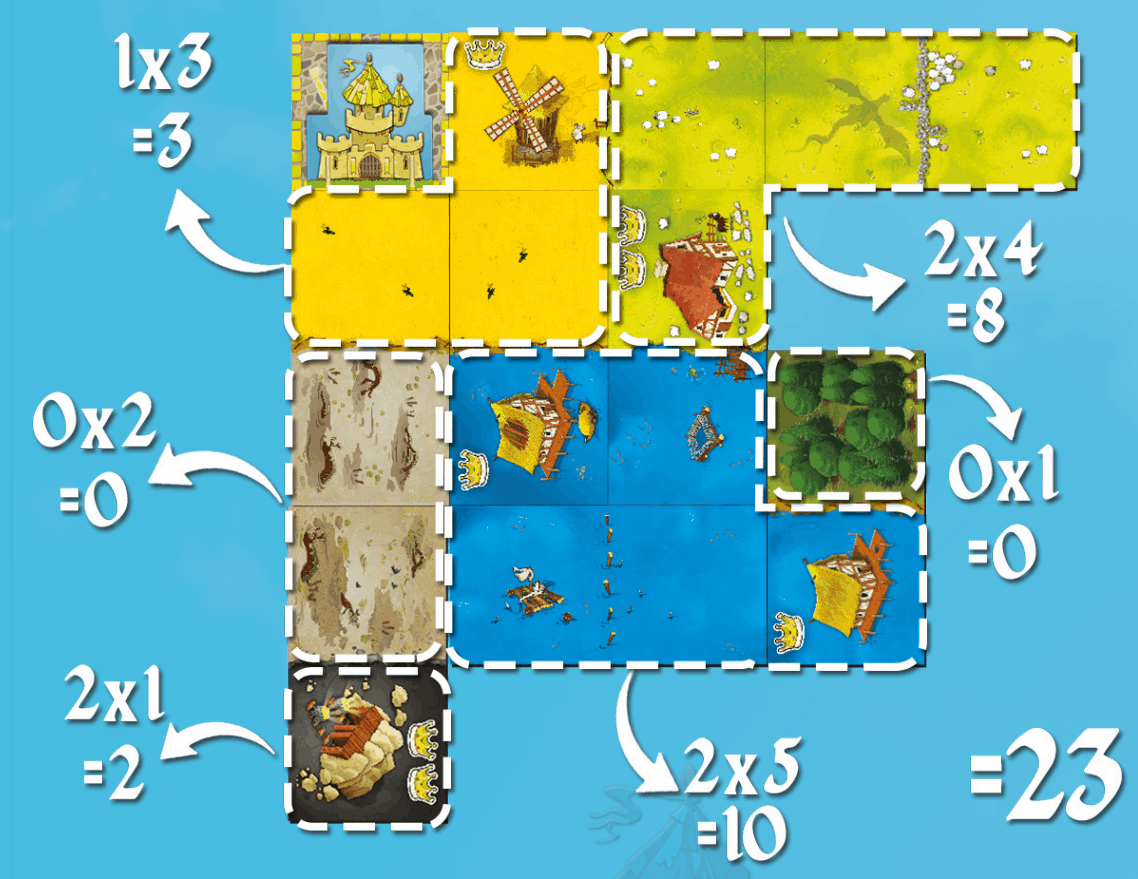 Kingdomino 2 Player Rules
Each player takes 2 King Meeples, 1 starting tile and 1 castle
Play with 24 randomly selected dominoes (half)
During the round, players select 2 dominoes with their 2 King Meeples
Order of 1st round is still random selection and order of subsequent rounds is determined by the order of kings in the line
Kingdomino 3 Player Rules
Each player takes 1 King Meeple, 1 starting tile and 1 castle
Play with 48 randomly selected dominoes 
Play as normal. Discard leftover domino every round.
Additional Game Variations
You can apply the following variations to make the game more challenging.
Mighty Duel
For advanced players. Use all 48 dominoes and each player creates a 7 X 7 grid kingdom
Harmony
Get 5 bonus points if player's kingdom forms a complete grid (5 X 5 or 7 X 7) and no gaps
Middle Kingdom
10 bonus points if the castle is in the centre of the kingdom. (Kingdom may have gaps
Dynasty
Play 3 games in a row. Player with highest total wins.